The Broadmoor hosts blazin' 9th NoCo Hemp Expo
At The Broadmoor hotel in Colorado Springs, Colorado, the ninth NoCo Hemp Expo kicked off this last week, bringing companies from all areas of the cannabis industry together to spread expert knowledge and awareness of many trailblazing botany options. 
When entering the Expo, attendees were welcomed with rows of booths spreading from hemp-based shoes to veteran products helping with anxiety and PTSD to hemp-seed oil sex lubricant. 
Aside from the many booths, attendees of the conference had three days to listen to knowledgeable speakers, starting with day one looking through the lens of advocacy and policy within the industry. 
Audiences heard from leaders who specialize in areas like sports, business startups and laws around cannabis services across the world. 
"While many think of hemp being in products like lotion and tea, things like concrete, guitars and board games made with the plant were not out of place at the Expo."
Speakers Adam Young, Cannabis and Psychedelics Industries liaison; Janel Ralph, CEO of RE Botanicals and founder of Harmony CBD; and Sean Murphy, founder of Kompassion, all spoke about children's medical advocacy and pushing to have access to cannabinoids for medical benefits. 
Day two turned to the business and investment side of the conference, where people could learn about innovative ways to be financially successful while working with cannabis and hemp. There is a ton of research within the industry that could still be done, and finding new areas that haven't been touched could be beneficial, not only for someone new but for the entirety of cannabis consumers. 
Knowing how the supply chain works logistically and working within legal guidelines were things Holly Bell, vice president of Flora Growth regulatory; and Kevin Schultz, co-founder and president of 357 Hemp Logistics, talked about along with what issues to prepare for. 
Things like how Indigenous cultures have made impacts and recognizing international hemp trends were other topics people could hear about. These subjects made a good transition for the third and final day of the NoCo event, where agriculture and academia shaped the presentations to close out the last day.
Specialists in plant health, genetics, sustainability and every other corner of plant growth helped show what they were doing to be successful, as it's only the fifth year hemp has been legal to harvest. 
While many think of hemp being in products like lotion and tea, things like concrete, guitars and board games made with the plant were not out of place at the Expo. The hemp industry has also lit a flame in the food world as the Expo had booths offering ice cream, nonalcoholic alternatives, flaxseed and dog treats for your four-legged friends. 
The clothing community has also ground with hemp in producing apparel, sunglasses, jewelry and a full line provided by Patagonia campaigned as Workwear Hemp Tough. Once your goodie bags were full, you could pop by multiple stages to hear more about the attending companies. 
Das Ellis, owner and creator of Hemp I Scream!, a vegan hemp ice cream company, reminisced to his audience about his exposure to hemp throughout his lifetime. Now he sells yummy ice cream sandwiches that come in five different flavors: Mango Love, Mocha Mint, Jasmine Flowers, Double Dutch Chocolate and Unbleached Vanilla. 
You can find more about all the inspirational speakers and each vendor at nocohempexpo.com.
Reach Taylor Paumen at cannabis@collegian.com or on Twitter @TayTayPau.
Leave a Comment
About the Writer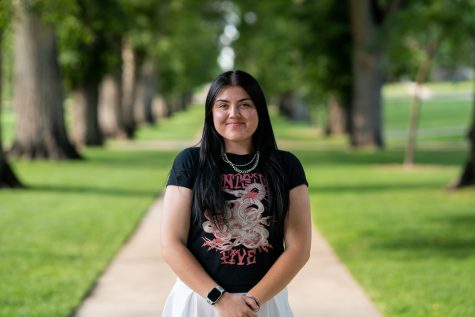 Taylor Paumen, Content Managing Editor
Taylor Paumen is the 2022-23 content managing editor for The Collegian and has been with the newspaper since February 2021. She started out as a volleyball...