Local bands cover throwback artists at Live on the Lanes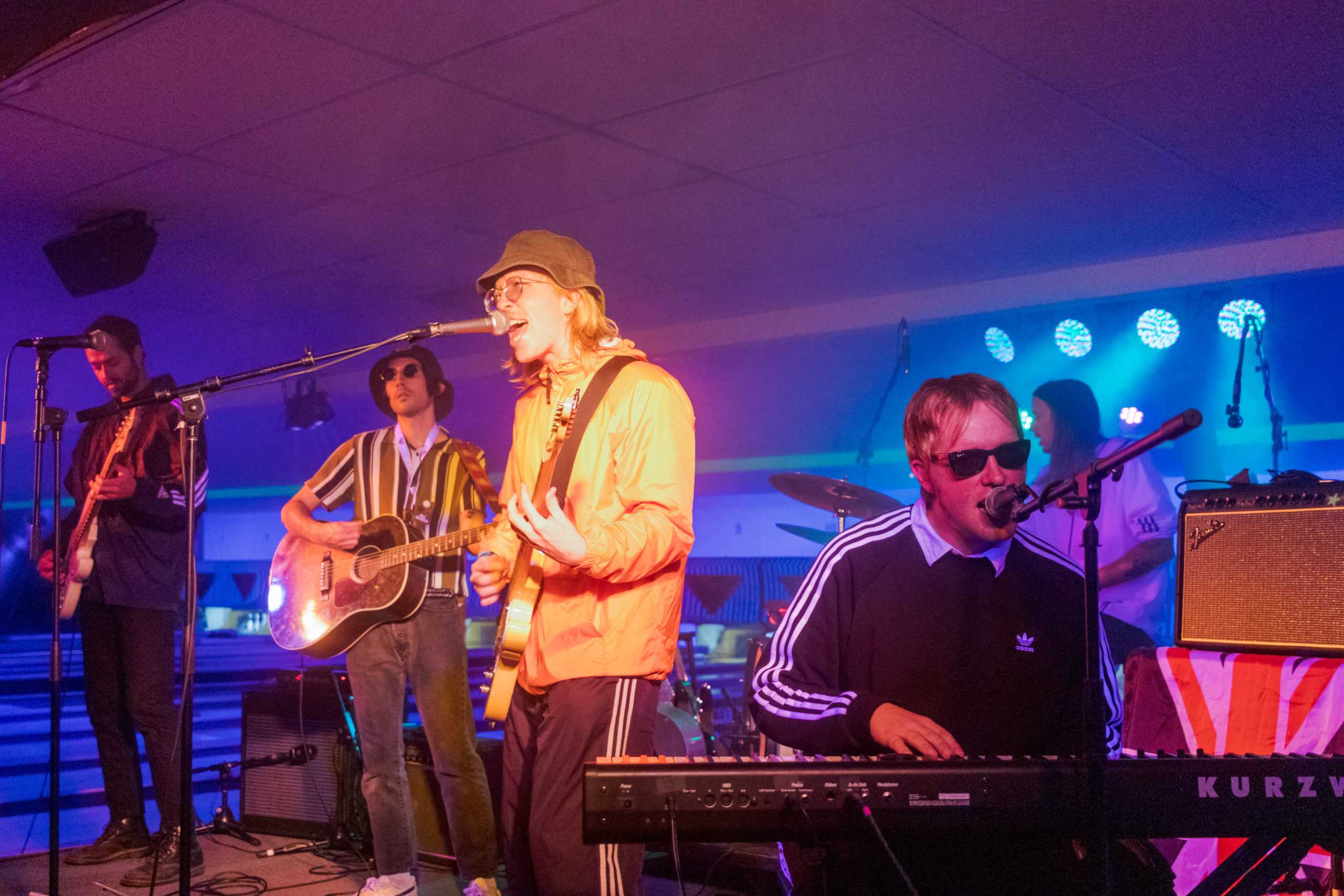 Nov. 6 was an opportunity for the crowd of Chipper's Lanes' 830 North to travel back in time to the '80s and '90s with three local bands, each covering a different iconic group for a late Halloween show. 
The show was part of Chipper's Lanes' Live on the Lanes series and was accompanied by bright neon lights and the sound of bowling balls hitting the pins, creating a nostalgic atmosphere perfect for this throwback Halloween cover band show. The night started off with local synth-pop group DEBR4H playing a set as Madonna, followed by The Sickly Hecks as the Pixies and Slow Caves as Oasis — or Sloasis. From the music to the outfits, each band put on amazing performances with multiple musicians playing in multiple bands. 
DEBR4H, formally called futurebabes, was originally formed by Jed Murphy in hopes of having a group that members could come and leave and he would still be able to play gigs. After meeting Kayna Hobbs-Murphy, his now-wife, the group started to solidify. Oliver Mueller, a member of all three bands that performed, joined DEBR4H primarily as a producer and was the one to suggest the name change. 
DEBR4H's set stood out due to how well Hobbs-Murphy played Madonna both vocally and physically. From far away, it would be hard to tell her and a younger version of Madonna apart. 
"We wanted to do something different," Murphy said. "I wanted to do something really synth-heavy. And Kayna (Hobbs-Murphy) has always been backing vocals and backing keys, and I knew she would wanna do something really fun and outside the box, and I thought she would just sound amazing, and she does." 
The Sickly Hecks chose to play the set as Pixies — all members are big fans of the group. 
"My sister got really into the Pixies in high school, and she would give me rides to middle school, and she would always play the Pixies," said Raymond Suny, singer and guitarist for The Sickly Hecks. 
Suny also said one of the first songs he learned to play on the guitar was "Where Is My Mind?" by Pixies.
"The Pixies had like a huge influence on '90s indies-rock," said Zach Visconti, who played guitar for The Sickly Hecks and bass for DEBR4H. "I grew up with a couple of friends whose older siblings also were way into Pixies. I only really knew a few of their songs back then and rediscovered them as an adult and was like, 'Oh, this is like the foundation of all the music I did grow up loving.'" 
In addition to being able to perform the songs of a band that has impacted and inspired them, the members of The Sickly Hecks also said learning these songs and trying to emulate the sound of Pixies taught them more about songwriting in a way that will stick with them. 
"It was a great songwriting workshop, kind of," Suny said. "Because these are, like, these sounds we all love, and we didn't really know what made them work and what made them great. So I think moving forward, some principles from the Pixies' songs might be incorporated more into (The Sickly) Hecks' songs."
The last band of the night was local indie-rock band Slow Caves performing as Oasis — or Sloasis. Slow Caves has put on cover shows in the past, the last being in fall 2018. Since then, singer and guitarist Jakob Mueller said the band has become bigger fans of Oasis and drawn inspiration from them as Slow Caves' music continues to evolve. 
"Playing these songs kind of obsessively over the past few months is going to deeply impact (us) — Oasis has always impacted our songwriting, but even more so now," Jakob Mueller said. "It's changing our brain chemistry and how we write and approach music."
Slow Caves emulated Oasis beyond just their music with a powerful stage presence and coordinated outfits. Oliver Mueller said he has been a fan of Oasis since he was around 13 and feels that he's been preparing for this show in some aspect since then. 
"Now it's like, 'OK, well, a good chorus is no longer acceptable,'" Oliver Mueller said. "It has to be this huge soaring, anthemic thing. … It raised the bar a little bit. We can do this — why not try?"
The Sloasis performance was not just an opportunity for Slow Caves to play the music that has inspired them but also to share that music with the crowd. 
"It felt so fun because it wasn't just another Slow Caves show," Jakob Mueller said. "It's a little bit weird playing a cover set. You don't know how people are going to respond to it, but people came in costumes and fully embraced it." 
All three bands have new music they have been working on and are excited to be able to share more original music after this exploration in playing cover sets.
Reach Maddy Erskine at entertainment@collegian.com or on Twitter @maddyerskine_.