Northern Colorado's next generation of pop-rock plays Globe Hall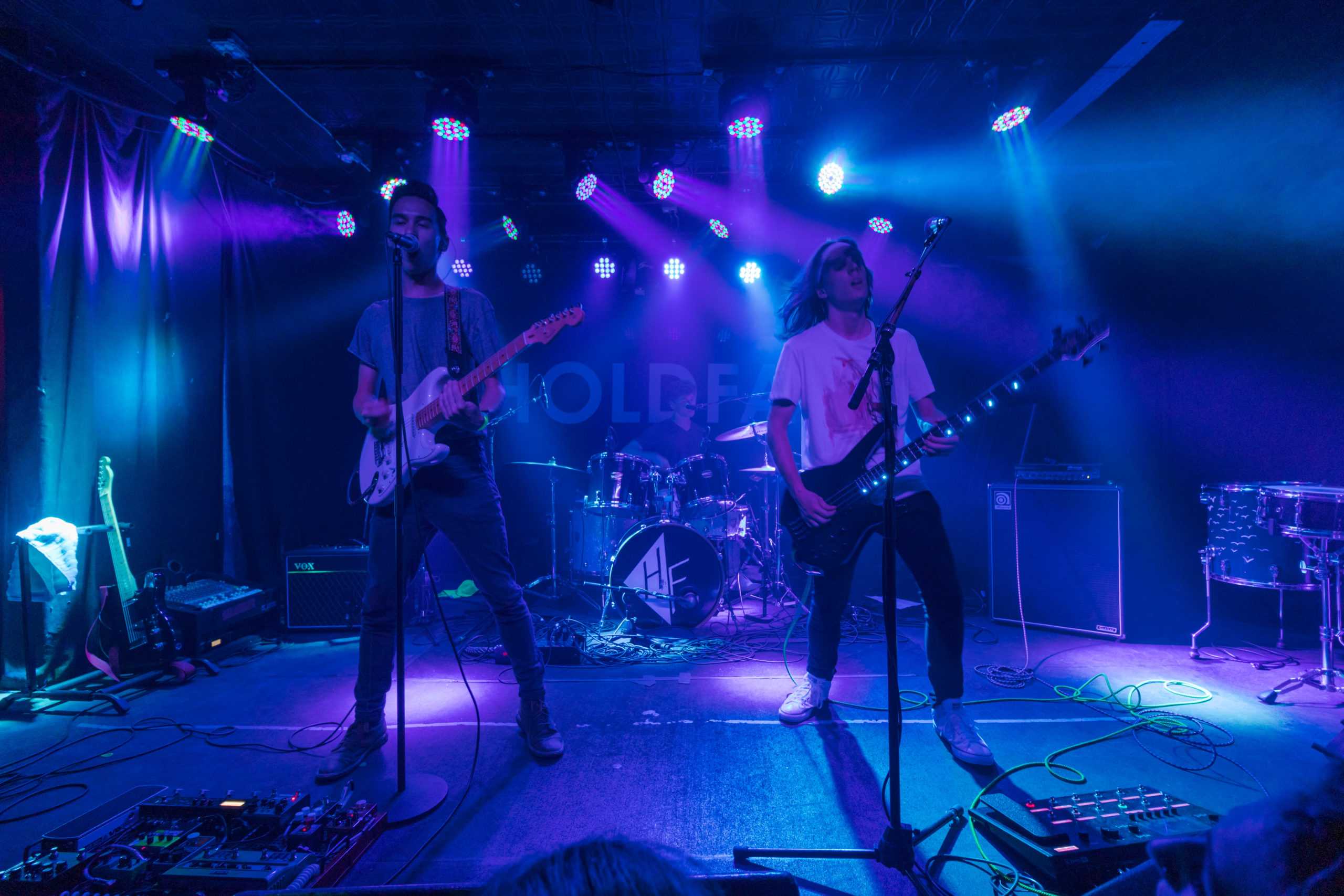 Unique Denver venue Globe Hall combines classic Texas-style barbecue with live performances from up and coming local artists. 
On July 17, Fort Collins band Holdfast. headlined Globe Hall alongside bands Gestalt and Lady Denim, three Northern Colorado groups foraging their identities as the next generation of pop-rock. 
Although guitar-centered pop has drifted out of the mainstream in the last decade, Saturday's performance showed that many young bands continue to follow in the footsteps of modern artists like the Arctic Monkeys and The 1975.
Opening band Gestalt incorporated heavy influence from the pop-punk acts of the early 2000s, along with elements of indie and math rock, to create an energetic sound that engaged Saturday's audience. 
"We definitely don't consider ourselves a one-genre band," said Cooper Dickerson, Gestalt guitarist. 
Exploring a wide range of tones from a heavier distorted sound to clean, jazzy guitar riffs, Gestalt uses distinct elements from pop movements of the past to create an undeniably modern sound, a common theme throughout Saturday's show.
"We take influence from all over the musical spectrum," bassist Mackenzie Broadhurst said. "Anything from Frank Ocean to Frank Zappa."
Informed by the British indie-rock of the 2010s and alternative rock of the same era, Holdfast. has a lighthearted pop sound that carries an atmosphere of nostalgia.
The second performance of the night came from Fort Collins indie-pop group Lady Denim, whose colorful melodies and smooth vocal performances created a light, danceable sound. 
Opening with their 2019 single "Cherry Limeade," a carefree love song that fits neatly into the aesthetics and tones of indie pop, followed by a rendition of their recent single "Pixie Girl," Lady Denim showed a desire to break out of the confines of genre labels like bedroom pop.
"I think we started (the band) grasping for a specific sound, but now we've started just making stuff that we want to make," said Nicholas Lubin, lead guitarist for Lady Denim. 
This shift away from a uniform sound was even more apparent in the band's new song "Country." True to its name, the song is rich with the twang and roaring guitars of '90s country while maintaining Nick Lundeen's laid-back indie vocals. 
"We're really growing into the influences we all like individually and bringing them together," bassist Chris Lubin said. "As we've bounced off each other, … we found this cool medium where we're creating something new."
The band's departure from their typical sound in "Country" brought up the energy of the room, meeting the expectations Gestalt had set with their pop punk-esque shifts in dynamic. 
The crowd's reaction showed how the band's choice to lean into eccentricity while maintaining the elements of their original sound can only help them as they seek more exposure outside of Colorado. 
Headlining band Holdfast. brought a modern take on the pop-rock genre to the stage. Informed by the British indie-rock of the 2010s and alternative rock of the same era, Holdfast. has a lighthearted pop sound that carries an atmosphere of nostalgia.
"They sound like a lot of older bands but they've got this great sort of modern spin on it," said Lacey Fortein, who was doing merch for the band at Saturday's show. "The song I first heard, 'Time,' sounds like a radio hit song. If it was broadcasted all over the world I guarantee they would have a global following."
The band, whose members consist of brothers Tommy and Mikey Maddocks and their cousin Charlie Maddocks, says that their sound has evolved a lot over the years. 
Formally including their siblings Elena and Maria playing keyboard and violin, vocalist Charlie Maddocks said previous instrumentation of the band was more bluegrass, despite wanting to be a bigger orchestral rock band. 
"Now it's shrunk down to a more modern sound," Charlie Maddocks said. 
Echoing the words of Chris Lubin from Lady Denim, who described Fort Collins as an oasis for creative talent, Holdfast.'s members are grateful for the unique environment the Northern Colorado scene has provided. 
"We've had so many opportunities in the last three years playing battle of the bands and local festivals like FoCoMX and Taste of Fort Collins," Charlie Maddocks said. 
As the young band continues to explore their sound, they've got big aspirations for the future, signing a deal with sync licensing company Audio Network and working on releasing new music. 
"We wanna tour nationally, … whether it's by ourselves or supporting a bigger act," Charlie Maddocks said.
Max Hogan can be reached at entertainment@collegian.com or on Twitter @macnogan.