Which Austen adaptation is, most ardently, the best?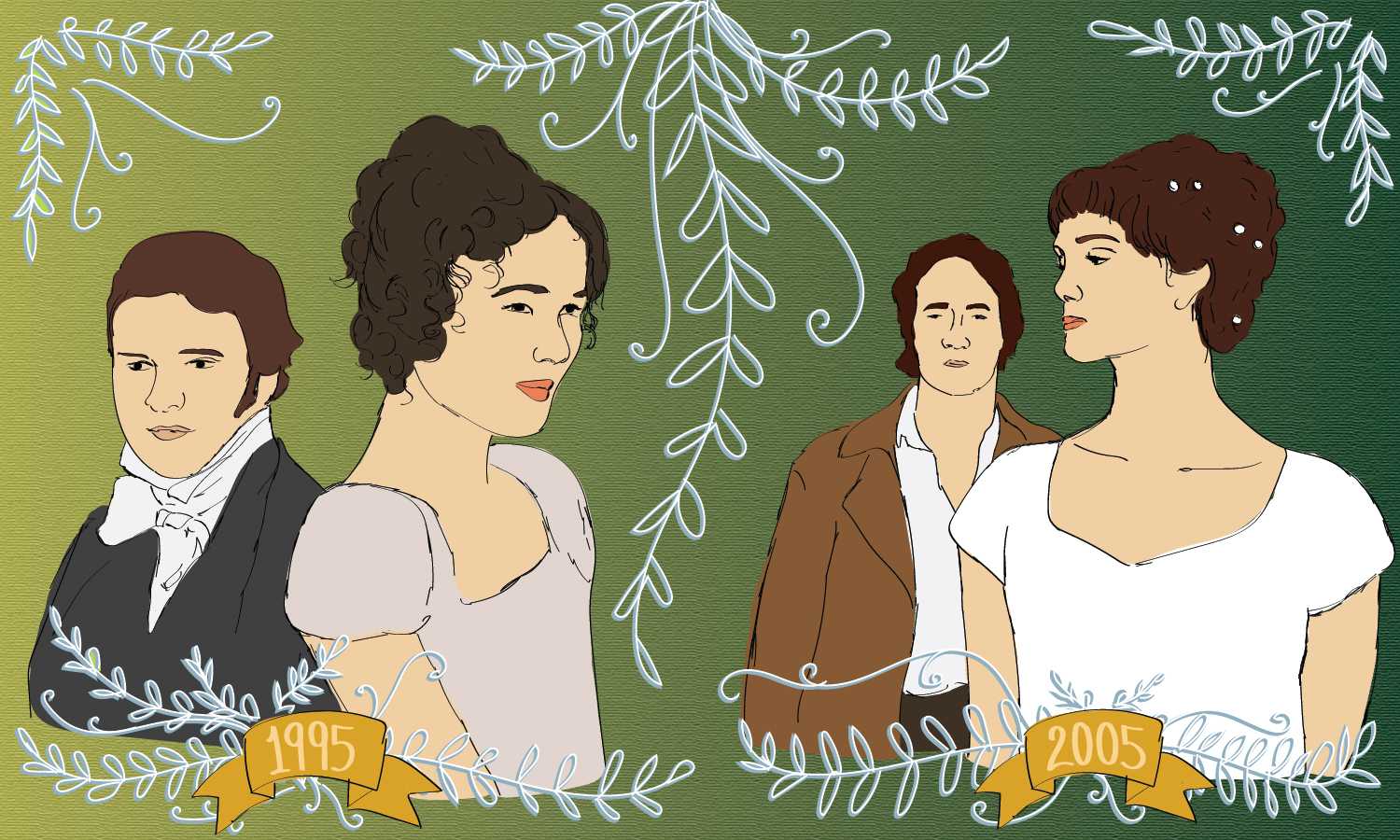 From Colin Firth to Matthew Macfadyen; from great wardrobes to greater scores; from yearning stares to fumbling hands, I present the ultimate showdown between the most well-known adaptations of Jane Austen's "Pride and Prejudice."
Older audiences tend to gravitate toward the 1995 miniseries starring the oh-so-dreamy Firth. But we would be remiss to ignore the Joe Wright film, starring silver screen icon Keira Knightley and a host of visually stunning and thoughtful scenes.
'Pride and Prejudice' should be under the definition of 'yearning' itself, but at the end of the day, I didn't get much chemistry between (Jennifer) Ehle and Firth."
Austen's 1813 work is considered one of the greatest romances penned, and main characters Elizabeth "Lizzy" Bennet and Fitzwilliam Darcy have set standards for romance even today. 
The '90s series, directed by Simon Langton, was very faithful to the book — many lines were exact to Austen's writing, the pace was appropriate for the time period and the costumes and furniture were historically accurate. I adored Jennifer Ehle's Lizzy deeply. She stood out to me as the most emotionally animated actor in the series, and she captured her character the best by a landslide. Firth's Darcy, on the other hand, was a major disappointment. 
Firth is a good actor — and the most handsome Darcy, in my opinion — but he didn't have the level of emotion in his eyes required for the brooding, wealthy protagonist we all love. There's a difference between being taciturn in social situations and being awkward and excessively silent. I had to pause an episode from laughing so hard at the way Darcy stares like he was the inspiration for Edward Cullen.
Additionally, Firth was wooden. I think there's a certain level of restraint that was natural for a 19th century setting, but the difference between Firth and Macfadyen is that the latter took old English etiquette and made it charming and resonant with the romantics in the audience.
As for the main Lizzy and Darcy relationship, it didn't stir me. I expected to be stunned by the tension and slow burn of their longing for one another. "Pride and Prejudice" should be under the definition of "yearning" itself, but at the end of the day, I didn't get much chemistry between Ehle and Firth.
I'm also a huge fan of a good soundtrack, and the series didn't have anything of the sort. On the other hand, the film's dreamy score, produced by Dario Marianelli and Jean-Yves Thibaudet, caught my heart in the first scene alone, and it has massive range.
Knightley, one of my favorite actors, stood out too. Her delivery of the lines, while true to her distinct acting style, made the heroine more relatable. This is also true for the modern twist on all the relationships, as every sister is clearly made memorable and close with their family.
While I found Susannah Harker's Jane Bennet a little stiff and forgettable in the series, Rosamund Pike claims a balance of shyness, compassion and prominent beauty perfect for Jane, complimenting Knightley's more energetic, assertive presence. The series' Mr. Bennet of Benjamin Whitrow was rude and detached, but Donald Sutherland had a spark that made it clear Lizzy was his beloved daughter while maintaining his generally unsociable — albeit likeable — wit.
Something that's consistent between the two adaptations are the stellar portrayals of Charles Bingley and William Collins. The Bingleys of Crispin Bonham-Carter and Simon Woods are as lovable as expected, capturing the aloof and friendly nature that makes Bingley such a smiling, stark contrast to his best friend, Darcy. Collins makes for a reasonably dreaded cousin in both adaptations. David Bamber and Tom Hollander were frightening in their performances, whether eliciting a cringe from the way Collins smiles or inspiring a laugh during a dance laden with unrelenting stares and a pigeon-like posture. 
The movie's mood was rowdier, its wardrobe more modern and its romance more suited to a contemporary audience, which could all be considered downsides, but even the lighting and soft colors illicit a dreaminess that a viewer has no choice but to appreciate. There were some scenes added that Austen definitely didn't conceive, but they were some of the most moving scenes in the film. 
The "Pride and Prejudice" of British television did the best at remaining faithful to the novel and its time period. However, it goes without saying that Wright's film made a greater impact and was generally more enjoyable.
I think the romantic impact is more important, therefore 2005's "Pride & Prejudice" takes the cake here. The acting, soundtrack and cinematography were clearly superior. And the ever-iconic "you have bewitched me, body and soul" line has no equal in the world of cinema, and this is a hill I will happily die on.
Renee Ziel can be reached at entertainment@collegian.com and on Twitter @reneeziel.