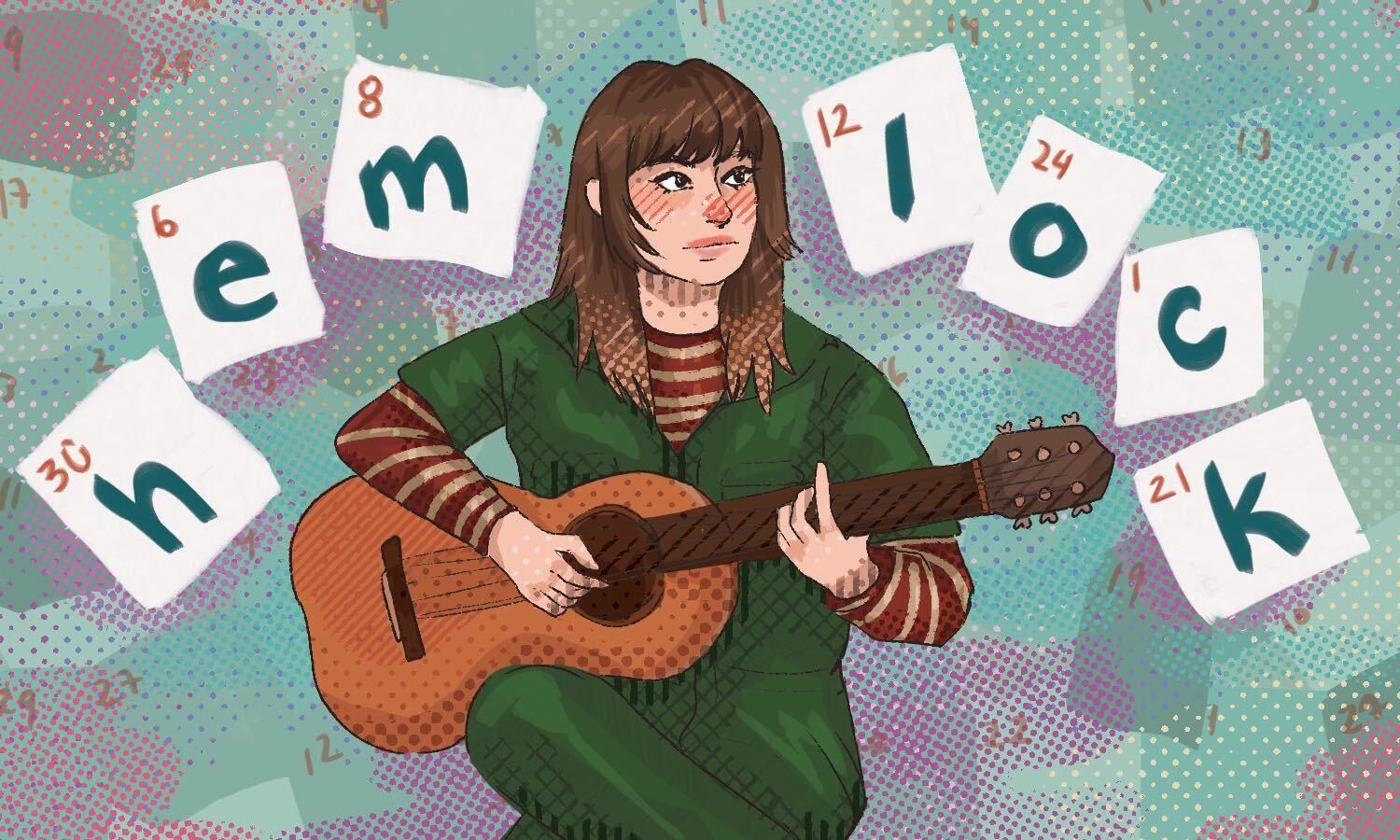 For most creatives, picking up a new project can be a serious challenge with a long, arduous process from start to finish. But Carolina Chauffe, an independent artist from Lafayette, Louisiana, has picked up a medium that turns these conventions upside down — an album produced all month long with a song written and recorded daily.
Chauffe got their start in the DIY scene of Lafayette, Louisiana, eventually touring at DIY venues across the country including Fort Collins' own Hotel Hillcrest. While Chauffe has been making music for years, the most recent release "december," under their project hemlock, is among the most groundbreaking works. The album, produced with the song-a-day approach, is an artistic experiment that questions the conventions of the music industry and brings the term "indie" back to its roots. Chauffe's work is simple and raw with the soft tones of a nylon string guitar and occasional midi keyboard providing a backdrop for layers of their melodic vocals. 
"December" features a number of great tracks, including the heart-wrenching darkness of soft-spoken words sung on "hope song (dec twenty-seven)" and "ought (dec eight)" where a peaceful synthesizer transports the listener into a kind of serene landscape of an electronic, pixelated world.
I believe that anybody who wants to make an album should be able to. To know that you can pick up this thing that most people have in their pocket … and make something with it … gives me a lot of hope and motivates me to continue creating in that 'lo-fi' way." -Carolina Chauffe, indie artist
With euphonious vocals at the center of many tracks like "couch (dec fourteen)," where layers of Chauffe's voice harmonize and weave through each other or the quiet but powerful vocals soaked in bittersweet nostalgia on the folky "citrus (dec two)," it's no surprise that they spent their formative years in choir.
With a Catholic background providing an introduction to choir at a young age, Chauffe continued through college, where the intense and competitive setting had a major influence on their understanding of melody and harmony. 
"I think the most training I've had musically and the most influential long-term exposure to music was through choir until I started going to DIY shows," Chauffe said. 
Chauffe credits much of their sound as a songwriter to the local scenes they've been a part of, citing contemporaries as the biggest inspirations, including Palm Sunday, Laith, Desolation Horse, Scenic World and Renée Reed, many of whom they've played or recorded with. 
"I feel like most of the time when I'm writing or when I'm performing, I'm trying to channel all the inspiration that I felt watching those people that I relate to (rather) than folks who are in the big leagues," Chauffe said. 
Along with local influences and formal vocal training, you can hear some of Chauffe's Louisiana background seeping through the cracks into their modern folk sound.
"We always had the Cajun radio on too in my house growing up, and the top 20 country music countdowns on the weekends — so kind of this eclectic mix that is still influential … (in) between the lines," Chauffe recalled.
According to Chauffe, the song-a-day projects have had a major impact on the Hemlock sound and their approach to songwriting in general. With each song being written and recorded in one day, the projects are raw and filled with emotion, making it feel almost more like a diary than a traditional album. 
"I feel like it gives me more access to the emotions that I'm trying to get across when I'm writing those songs, because I find the more that I try to polish something and record it over and over again the further that I move away from what I'm trying to actually say," Chauffe said.
"December" is the second album that Chauffe has used the song-a-day approach for, following the earlier release of "february" in 2019. Chauffe said they were inspired to pursue the project after hearing Michelle Zauner, singer of Japanese Breakfast, discuss her approach to songwriting on a solo project called "June," a similarly structured project that features an unfinished idea of a song recorded on each day of the month.  
"Discovering that project, I figured it would probably be a good challenge," Chauffe said. "So I decided for February that I was going to do it and then I went through a pretty gnarly breakup. I was super heartbroken and I was like 'OK, this is gonna be great. I'm gonna get it all out.' If anything, it was gonna be a distraction, but I ended up really finding a lot of my voice as a creator over the course of that month."
The unconventional process of "february" and "december" has helped Chauffe relieve some of the self-restricting pressures of creating a traditional album. Chauffe says that this freedom has resulted in some of their best work while also giving them a new outlook on how they view their work in general. 
"They're more like memories to me than they are like a product, and when I'm creating a studio album I tend to feel more like I'm creating this gift that needs to be packaged up nicely and passed along to the public," Chauffe said. "This is more like opening up my journal and saying read it if you want."
"December" was also recorded using only a smartphone, showing that the song-a-day project is a truly inexpensive and accessible one, something that Chauffe says has changed their view of what is necessary to create an album.
"I believe that anybody who wants to make an album should be able to," Chauffe said. "To know that you can pick up this thing that most people have in their pocket … and make something with it … gives me a lot of hope and motivates me to continue creating in that 'lo-fi' way."
Chauffe believes that anyone can use this artistic experiment of creating a product each day to explore their abilities as a creator. 
"I think it's an incredible opportunity to remove all of the rigidity of creative pressure to follow your previous body of work," Chauffe said. "And that translates to any medium. If you're a dancer or a painter — you could be making anything."
For anyone feeling inspired and ready to create your own month-long project, Chauffe has a bit of advice.
"Be patient with yourself, be forgiving with yourself and remove the boundaries that you've given for your work in the past because otherwise, I don't think it's doable," Chauffe said. "You get really sick of it really quickly."
You can find "december" and Chauffe's other works under the name hemlock on Spotify, Apple Music and bandcamp.
Max Hogan can be reached at entertainment@collegian.com or on Twitter @macnogan.