Feel the Bern: Warm up with the top 10 Bernie Sanders memes
Kadyn Thorpe
February 11, 2021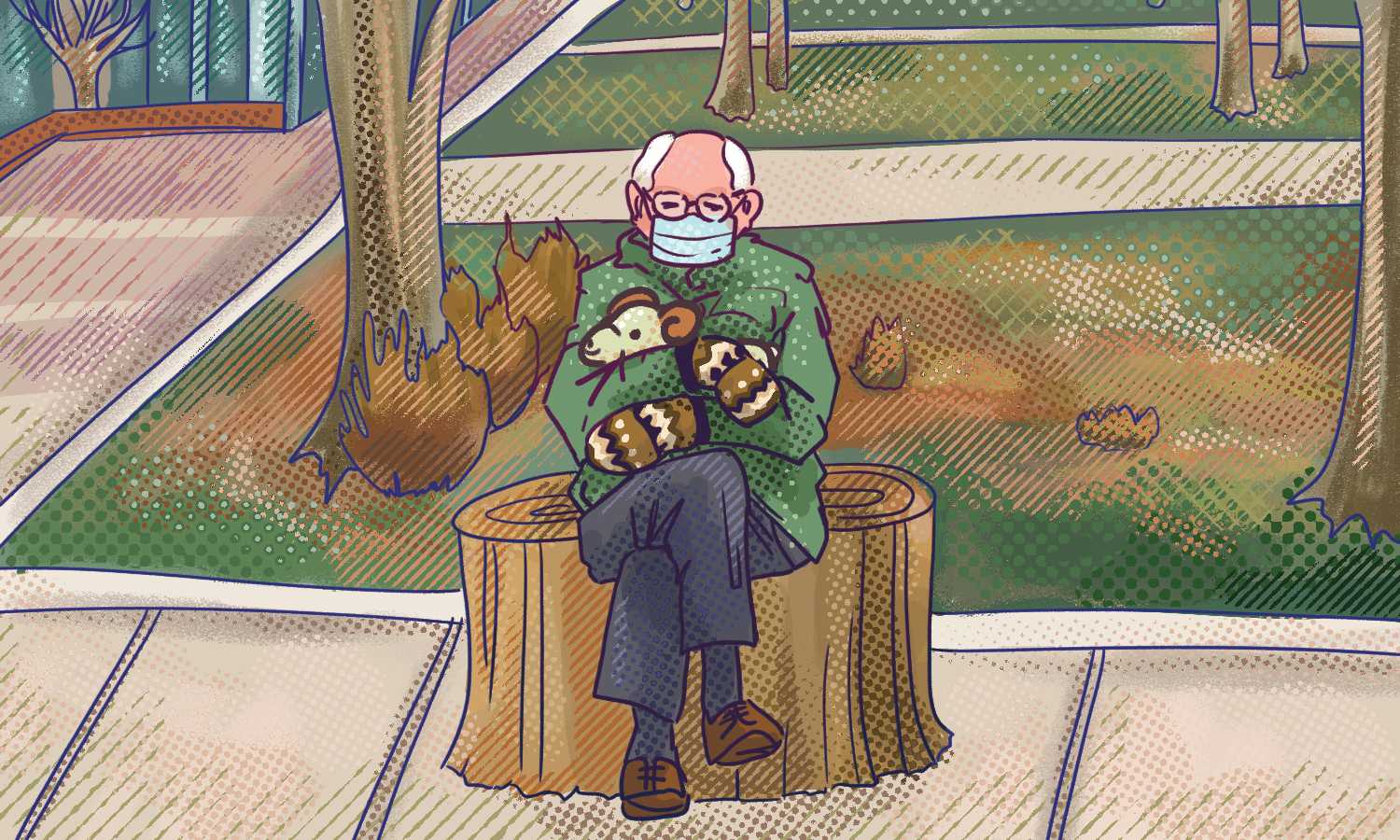 With this generation, we can hardly pass by a major event without making out some obscure meme for the day. The same was true Jan. 20, when the inauguration of President Joe Biden was televised across the nation.
But it wasn't Biden that caught the eye of millions in the viral frenzy — rather, it was Vermont Sen. Bernie Sanders that stole the show.
Donning a large coat, a surgical mask and, of course, the signature mittens, Sanders was photographed sitting in a foldable chair at the inauguration ceremony — a photo that would soon find itself in Renaissance paintings, charity drives, Marvel movies and local tattoo parlors.
1. People put him in classical paintings like this one — The School of Athens, painted by Raphael in the 1500s. Oddly enough, Bernie seems to fit right in. 
#BernieSanders took me a minute to find him 😂😂 pic.twitter.com/xRCkXz8drb

— Megan ⚓️ (@Megan0903) January 21, 2021
2. I mean, they really photoshopped him anywhere and everywhere, even in the Jan. 6 attempted insurrection at the U.S. Capitol.
The Internet walking away with Bernie like:

#InaugurationDay pic.twitter.com/xIOpq862Zk

— Cameron Grant (@ImCoolCam101) January 20, 2021
3. Sam Kuhn, a Denver tattoo artist, even tattooed the meme onto a worker at Owlbear Barbecue, a restaurant that neighbors the parlor she works at, as part of an earlier joke that became a reality. If you want to know more about the story, you can read it here. 
 

 

View this post on Instagram

 
The famous photo found its way into pop culture quickly, with famous scenes from "Mean Girls," "The Avengers" and many more adopting Bernie into their background.
4. Welcome to The Plastics, Bernie. I guess the limit on this meme doesn't exist. 
My favorite Bernie meme haha #TheNine pic.twitter.com/lXtq3zYvGU

— Buffy (@HoneyKooKoo) January 21, 2021
5. One of my favorites was this meme of the 1992 film "Wayne's World" If you listen closely, you can practically hear Mike Myers' iconic "Excellent!"
It's fun to make #Berniememes pic.twitter.com/BBWD3KaETC

— Brian Grubb (@McGrubby) January 24, 2021
6. The one thing that Bernie's outfit is missing here is Deadpool's super special Hello Kitty backpack.
 

 

View this post on Instagram

 
7. "I have an army" — Loki; "We have a Bernie" — Tony Stark
Idea from @AshleyKSmalls @Marvel put Bernie in a movie. His super power is he fits perfectly in every photo. pic.twitter.com/79Gg1VDmUR

— DJ-KIMchi (@djjkim) January 21, 2021
(the specified tweet was on Jan. 20 – rachel)
The now-famous photo was not only used as inspiration for a quick laugh while scrolling through Instagram and Twitter — some people choose to make a difference with their creativity. Many people sold merchandise and later donated a portion of the proceeds to charity. 
8. @tobeytimecrochet on Instagram created a handmade crochet doll of Bernie and put it up for auction on eBay. Tobey King later donated 100% of the proceeds, which was $20,300, to Meals on Wheels. Similar dolls were made, and I am not ashamed to say I do own one. 
 

 

View this post on Instagram

 
9. The Instagram meme account of @quentin.quarantino created this image and pasted it on sweatshirts, t-shirts and posters. They then donated a portion of the proceeds to No Kid Hungry, which helps end childhood hunger in America.
 

 

View this post on Instagram

 
10. And probably the best use of this meme — Sanders himself sold it on sweatshirts and t-shirts with 100% of the proceeds going to Meals on Wheels Vermont. Legendary.
People had a blast putting Bernie anywhere and everywhere. I'm excited to see what other memes will come out in 2021.
Kadyn Thorpe can be reached at entertainment@collegian.com or on Twitter @ThorpeKadyn.