Simply Cooking with Sierra: Trader Joe's Brussels and Tortellini
Sierra Grimm
October 6, 2020
Life is all about balance. Sometimes you can bring your childhood foods back to life but create a bit more nutritional value with that meal.
My childhood consisted of cheese tortellini. It was my go-to whenever we ate Italian food. This is my quick and easy go-to cheat meal when I don't want to be cooking for hours.
For this recipe, I used only ingredients from Trader Joe's. Trader Joe's offers its own unique ingredients and products that can't be found at other grocers. They have heaps of options that can be incredibly versatile when reusing food ingredients and creating new meals while being a smart shopper and keeping it affordable.
Since I like to have more nutritional value in my meals, I love greens. Adding in a handful of spinach and Brussels sprouts will top off this savory dish. Knowing I am adding this value gives me a mental break because I am consuming my favorite greens.
I am using a large portion of olive oil to avoid using tomato sauce. However, you sure can substitute that olive oil for red sauce, Alfredo sauce, pesto or even coconut oil. Options are endless when it comes to sauces. It's all the desired choice.
The best part of this meal, though, is the onion salt. This stuff has been a game-changer for me and my cooking. It's one of those spices you can add to pretty much anything, and it's going to taste great. If you want more flavor that's not too overpowering but still different from your Italian seasoning or just pepper and salt, this baby has you covered.
Ingredients:
One package of cheese tortellini $2.29
One bag of spinach $2.29
One bag of Brussels sprouts $1.99
Onion salt $1.99
Coconut oil $5.00
Olive oil $5.99
Directions:
You are going to need a pot to boil water for the tortellini. Once that is ready, add the pasta to the water for eight minutes while stirring occasionally. While the pasta is cooking, sauté your Brussels and spinach in a pan with coconut oil and a dash of Trader Joe's trusty ol' onion salt. Sauté those ingredients together for a few minutes. Once the Brussels turn a brighter green, they'll change to be less crunchy and have a softer texture, i.e. more desirable to eat. Once that and the pasta are finished, drain the pasta almost all the way, but leave a good teaspoon of pasta water for some sauce. Add in the veggies and drizzle with more onion salt and olive oil. Bon Appétit!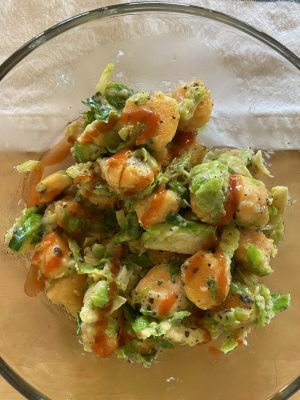 Sierra Grimm can be reached at entertainment@collegian.com or on Twitter @CSUram5.