UK singer Dodie to empower Gothic Theatre
Matt Campbell
August 28, 2019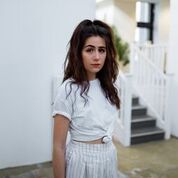 For the better part of this year, the cryptic sound of English singer-songwriter Dodie Clark has made its way across the world with a presence that is hard to ignore. With two sold-out shows at the Gothic Theatre on Sept. 27 and 28, Dodie will bring her endearing quirk, as well as a lyrical celebration of queerness and feminism, to the stage. 
Like many young artists today, Dodie's music career stems from her Youtube channel, where she uploaded videos of covers and original songs. Now, several years later, the artist is coming off of the release of her critically acclaimed EP "Human," which dropped January 2019. Dodie spent most of this year on the "Human" tour across the United States and Europe. The U.S. leg will take up all of September and most of October 2019. 
It is difficult to pigeonhole the sound of Dodie's third EP "Human." The songs on the album are as quirky as they are personable, a quality that primary songwriter and instrumentalist Dodie implements in both her music and her online presence. Over the course of her career, Dodie has amassed over 1.8 million YouTube subscribers and has rocketed as high as number five on Billboard magazine's U.K. charts.
What makes Dodie's music important, however, is its sound. On top of reverb-soaked acoustic guitars and determined electro-pop beats, Dodie crafts soft and careful words. On her EP "Human," she speaks of love and specifically the uncertainty of her own emotions.
"Monster" is a track that feels like wandering the winding halls and creaky floors of an old house, a metaphor that is not unfamiliar to many singer-songwriters who remark on the skeletal state of a love that once was.
On "Monster," Dodie comes face to face with the death of self in a relationship that makes monsters out of lovers and self-consciously admits to being a malformed version of her former self. It is a track that invokes as much reflection as it does fear.
In past performances, Dodie has brought intimacy and vulnerability to her audiences. While it's difficult to say exactly what to expect from this leg of the "Human" tour, it is safe to say that her prior performances promise a night of warmth and entertainment. 
Matt Campbell can be reached at entertainment@collegian.com or on Twitter @mcampnh.