FIDLAR descends further into madness on 'Almost Free'
Henry Netherland
January 28, 2019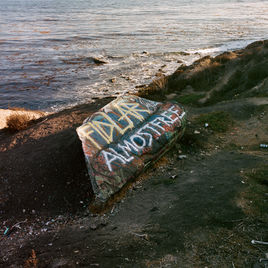 California based surf-punk band FIDLAR is an acronym for Fuck It Dog, Life's a Risk, and boy, do they live up to that name.
The band consistently delves into the deepest realms of partying and hardcore drugs. I was lukewarm on their self-titled debut because of how homogenized it was. I was much more impressed with their follow-up album, "Too," which was much more diverse and melodic.
Sober listening
"Get Off My Rock" is a bizarre left-turn for the band where they take on a rap-rock fusion. The mix is compressed and clean. I appreciate some of the samples, but as an opener, it falls flat on its face by trading the band's organic crunchy sound for trendier production that scrubs the sound clean. The rapping could have been much worse, but vocalist Zac Carper still sounds awkward and inexperienced.
Carper's voice has been consistently whiny since the beginning, but he has always managed to give it a bit of bite through his throat-shredding screams.
"Can't You See" is comparatively much more listenable. Some of the chords feel classic rock inspired. The vocals are more laid back and relaxed, but they sound bland.
"By Myself" starts out promising enough with a dry mix of Carper informally singing along to stern guitar strums. Then, the chorus comes in out of nowhere. A generic dance beat pops in over a chaotic instrumental, which I cannot comprehend whatsoever. The beat is placed so upfront that it overpowers the rest of the instrumental.
Ironically, "Alcohol" could have fit perfectly on the band's debut. There's a bit of a blues influence on some of the opening guitar chords, and Carper's voice feels raw as hell. It also has one of the catchier choruses.
The instrumental cut, "Almost Free," is okay, but the composition is not really intricate or entertaining enough to justify its existence as just an instrumental cut.
"Scam Likely" is one of the more upbeat cuts in the tracklist. Once again the chorus lacks stickiness, but I enjoy the sweeter west-coast tinged guitar riffs.
One smoke session later…
Fortunately, the band does significantly improve in the latter half of the record.
Some of the melodies of the verses on "Called You Twice" heavily remind me of "I'm Gonna Be (500 Miles)" by The Proclaimers. There's definitely an emo vibe on some of the lyrical choices and guitar tones. The lyrics are a little sappy, but they feel genuine. K. Flay holds her own thanks to her unique vocal style.
"Nuke" is less than 40 seconds long, but it makes a larger impact than much of the tracklist with its explosive ball of energy.
I can appreciate the lyrical direction the band was going in on "Too Real," but the production is so muddy and morphed that the message is incomprehensible. Eventually, the band peaks with an electric chorus, but it's hard not to cringe at lyrics like "Was that too fuckin' real?"
"Thought. Mouth." has some hit or miss moments, but I enjoy the numerous instrumental phases the band inserts in a relatively short time.
The album closer, "Good Times Are Over," is a pretty straight-to-the-point pop punk banger. It isn't pushing any boundaries, but it easily has the most infectious hook.
Overall: 4/10
Best songs: "Good Times Are Over," "Alcohol," "Nuke," "Called You Twice" and "Thought. Mouth."
Worst song: "Get Off My Rock"
I can appreciate the band really trying to branch out of their usual sound, but they execute these ideas in the clumsiest fashion possible. In addition, the majority of the new ideas lead the band into just going more commercial. On "Almost Free," the band is best when they are trying to write straightforward, punk bangers. Everytime they go outside their comfort zone, they just sound awkward and unbearable. Not to mention their inability to venture topically outside of drugs and partying can be pretty mind-numbing.
Henry Netherland can be reached at entertainment@collegian.com or on Twitter @NetherlandHenry.