Stoned vs. sober: Brockhampton's 'Iridescence' provides an immersive hip-hop experience
Henry Netherland
September 25, 2018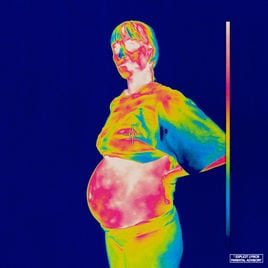 Editor's note: The activities portrayed in this article were done legally and in a safe environment. 
The self-proclaimed "Greatest Boy Band in the World" is back with the first album outside of their "Saturation" series. The up and coming rap group/boy band Brockhampton has released a slew of albums proving themselves as a diverse musical collective meant to be reckoned with, since their debut in 2017.
To celebrate the release of their fourth album, "Iridescence," I wanted to experiment and see if marijuana would affect the album listening experience in any way, so this review contrasts sober and incredibly stoned listening.
Sober listening
The second track, "THUG LIFE" has a much softer tone compared to the opener, "NEW ORLEANS." Here, the group cements their boy band status with boyish scatting, courtesy of member bearface, that is reminiscent of boy band songs from the early 2000's.
"J'OUVERT," which was released right before the record dropped, is an intensely dark moment on the record with Joba screaming his brains out over a dense, drony baseline.
The group continually uses autotune within their music. But rather than exploiting its assistance, they use it as an artistic statement instead. The only time it really becomes obnoxious is on "SAN MARCOS" where it clashes heavily with gentle emo guitar chords. Luckily, the London Community Gospel Choir stops in at the end to save the track with luscious strings supporting them.
"TONYA," which was first performed on "The Tonight Show with Jimmy Fallon," is an emotional high point for the band. It reflects on the recent departure of founding member Ameer Vann over allegations of sexual misconduct.
Right before the end of the record, the album begins to take a brief dip in quality. Specifically on the track "VIVID," the production does not feel as colorful and the flow feels comparatively run of the mill.
One bong session later…
The opener, "NEW ORLEANS" is this incredible banger where everyone goes the f*ck off. Kevin Abstract has this mesmerizing smooth flow while the rest of the group spits these very out there and spastic flows. There's even a surprise Jaden Smith feature that fits well into the track.
The first half of the third track, "BERLIN" has this banging, bassy crunk-inspired beat. Dom McLennon and Matt Champion are super invested in their deliveries while bearface has this grimy, yet feminine tone to his voice during the choruses.
The group continues with their normalization of homosexuality in hip-hop with "SOMETHING ABOUT HIM." God is this track beautiful with its jangly guitars and synths. Even though the several vocal effects on Abstract's voice are a little annoying, they still manage to add some diversity to his voice.
"HONEY" has one of the more unique transitions on the album; going from a drony instrumental with eerily despondent flows to this lavishly, yet trippy, psychedelic instrumental. There is an incredible amount of layering on the backend of this track including autotuned background vocals, multiple instrumental samples and even police sirens.
At only a few projects in, Brockhampton has shown to have one of the most consistent discographies by a hip-hop collective in awhile. While there were a few rare moments that felt underwhelming, the overall experience (both sober and stoned) was an excellent one.
Overall: 8/10

Favorite songs: "NEW ORLEANS," "SOMETHING ABOUT HIM," "HONEY," "J'OUVERT," "SAN MARCOS," "TONYA," "WEIGHT," and "THUG LIFE"

Least favorite song: "VIVID"
Henry Netherland can be reached at entertainment@collegian.com or on Twitter @NetherlandHenry.