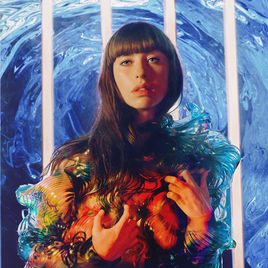 Kacey Musgraves is undoubtedly one of modern country's most underrated artists.
While not particularly experimental, her sharp sense of melody mixed with witty lyricism and left-leaning values equates to a unique figure in the contemporary country scene.
She has always favored introspective acoustic ballads over the overproduced electric guitar party anthems of her contemporaries. On "Golden Hour," she dives even deeper into the softer side of country music with some of her most atmospheric songs to date.
Unfortunately, the album's opening cuts are some of the drawliest she has ever released. "Slow Burn" sounds exactly like what its title says. The use of more modern production is great, but the lifeless chorus and lack of interesting chord progressions lead to one of the most sleep-inducing songs on the entire record.
On the second cut, "Lonely Weekend," Musgraves picks up the pace a little by using the upper end of her register. The instrumental is pleasant and spacey, but once again, the chorus is kind of mediocre. This description essentially applies to a bulk of the first half of the record. Because her sound is not exactly versatile or experimental, the quality of the tracks rests primarily on the chorus and the lyricism.
"Love Is a Wild Thing" has some of the best guitar chords on the album. I love how the playing switches back and forth between plucking and strumming, which does not sound revolutionary, but it does sound tactical.
On the second half of the album is where Musgraves really begins to shine.
The initial single for the record, "Space Cowboy" is an atmospheric ballad, which I was first underwhelmed by, but as I listened to it more the more, I began to appreciate it. The track begins pretty skeletal, but as the song continues she adds layer upon layer of instrumentation making it as dense as possible while keeping it reserved. Not only that, but I love the constant wordplay she uses through the duration of the song.
What makes Musgraves' lyricism special is her ability to take tired old cliches found in country music and use them in a super creative way so that they end up supporting her underlying message.
"Velvet Elvis" is a peppy, endearing love song. The punchy beat compliments her voice perfectly on the chorus. I also love the flowery guitars on the bridge.
Musgraves maintains her girl-next-door image on "Wonder Woman," by admitting her humanity to her hypothetical partner. She ingeniously uses reverb to guide one guitar chord to the next.
All I need's a place to land
I don't need a Superman to win my lovin'
'Cause, baby, I ain't Wonder Woman"
Her attempt as a country disco-pop fusion on "High Horse" goes over unexpectedly smoothly. The prominent quarter note kickdrums do not make the song exactly unique, but her infectious vocal melody mixed with twangy guitars beautifully blend two vintage sounds in an aesthetically pleasing way. It's songs like this show that her potential as a pop crossover artist.
The riffs on the title track are completely hypnotic. Not only this, but this is my second favorite chorus next to "High Horse." I love the way Musgraves' voice floats above the subdued instrumental.
I would have preferred another song to act as the album's closer. "Rainbow" is a decent piano ballad with nice progressions; however, it feels like it was only put at the end because it is one of the most low-key songs on an album that is already nothing but low-key songs.
Should you listen to it? Probably
Even though this is not Musgraves' most captivating effort, she continues to prove herself as a serious songwriter. I would definitely recommend this as well as the rest of her catalogue for those who are not necessarily invested into country, but still see it as a genre worth exploring despite what is presented in the mainstream. This is not a party record; this is more of something to listen to for relaxing and contemplating relationships and life.
Favorite songs: "High Horse," "Golden Hour," "Wonder Woman," "Velvet Elvis," "Love is a Wild Thing," "Space Cowboy"
Least favorite song: "Slow Burn"
Collegian reporter Henry Netherland can be reached at entertainment@.com or on Twitter @NetherlandHenry.