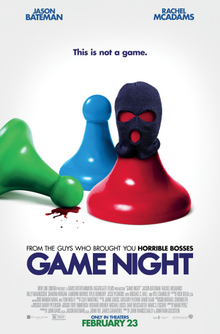 "Who cares about winning? Let's get drunk," proclaims Jason Bateman's character early in "Game Night."
 The answer to that question: Everyone.
Max, played by  Bateman, and his wife Annie, are passionate about weekly trivia game nights. They play with an eclectic group of friends.
These characters have their own assorted issues.  Max and Annie are dealing with Max's inability to help conceive a child: The reason? Psychological pressure to become successful, like his brother Brooks. In addition, Max and Annie's friends include a couple with infidelity issues and a lovable but dim-witted Lothario. Said Lothario arrives with a new date each week.
However, the action really picks up when Max's brother, Brooks, comes to town and proposes his own unique version of game night. The twist: It is a fake murder mystery, full of fake kidnappings and FBI agents.
"Trust me, this will be a game night to remember," Brooks proclaims. And it is, but not for the reasons he expected. Max leaps into the fray, ever eager to outdo his brother.
Of course, real criminals get into the action, seemingly before the fake plot even materializes. A fight between Brooks and criminals ensues, with the partygoers watching in amusement and offering commentary. In one darkly hilarious moment, Brooks is slammed into a glass table, which does not shatter. Brooks is subsequently kidnapped, to the characters' oblivion. 
The couples only slowly discover that the plot-line has been disrupted by reality and must fight to save Brooks. During this, revelations about Max's brother also inevitably surface. He has become involved in illegal activity and crossed a villain known as "The Bulgarian." I will not reveal further details, but suffice it Brooks is not as suave and collected as one might think.
Directors: John Francis Daley and Jonathan Goldstein

Genre:  Comedy

Starring: Jason Bateman,  Rachel McAdams

Release date: Feb 23, 2018

Now playing at: Cinemark Fort Collins 16,  Cinemark Movie Bistro and XD, AMC Classic Fort Collins 10
Per formula, the characters must not only help rescue Brooks, but address their own relationship issues. These moments  often seem uneven and clichéd. The movie could have specifically benefitted from exploring the Max-Brooks relationship. The high-octane competition between the two early on is hilarious, but superficial. And even when the inevitable heart-to-heart occurs, more could be revealed about their past tensions. Specifics about their lives would have helped this significantly.
While the movie is often predictable, at particular moments it is also aware of these limitations. And in such moments, the movie comes alive with hilarity. Crude, testosterone filled humor abounds. Male body parts are cheerfully referenced as metaphors for virility. At one point, Annie suggests that Brooks has rented a large house to compensate for smallness in certain regions.
Pop culture references are also ubiquitous in the movie. In one scene, Max  crashes a car into a plane, while simultaneously discussing a similar move in "Taken 3."  In addition, when the characters are unaware of the real danger unfolding, they happily relish the fantasy of danger. Rachel McAdams is particularly memorable, at one point wielding a gun with relish in a bar.
Should you see this? If you like good, crude, high-octane action and just need an emotional release.
At one point, a character also refers to Brooks as the "Mark Wahlberg to Max's Donnie." This movie may be the Donnie of action films, overshadowed by countless blockbusters, but it still offers high-octane entertainment and laughter.
Collegian reporter Nick Botkin can be reached at entertainment@collegian.com. His Twitter handle is @dudesosad.