Lil Skies' 'Life of a Dark Rose' is nothing special
Henry Netherland
January 25, 2018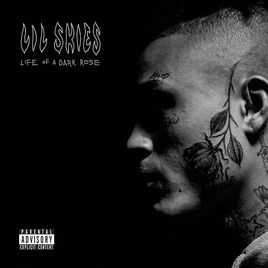 Lil Skies' debut album is enjoyable but uninventive.   
On his major debut, "Life of a Dark Rose," Philly up-and-comer Lil Skies attempts to show the world who he really is. The album lasts a typical 40 minutes long with 14 tracks sitting at about three minutes on average each. There is not really a theme to the overall album. Every song seems to act independently similar to a mixtape.
The opener, "Welcome to the Rodeo," starts the album off in a surprisingly aggressive way. Skies describes his come up and how he will continue pursuing his ambitions in spite of his hardships. One line that stood out the most not only on the song, but on the album as a whole was, "I got tattoos on my face, I use that shit as motivation. I could never get a job, so for my dream, I'm dedicated." This line as well as a few others show an interesting side of self-awareness on Skies' part by offering the audience a chance to see the high stakes involved within the music industry.
Vocally, Skies relies heavily on autotune. This is blatant on nearly every song. And while it is pretty tolerable for the duration of the project, on "Garden" it becomes hard to listen to. Acting as the background vocals are these ugly, distorted autotune cries similar to the ones found on Kanye West's "My Beautiful Dark Twisted Fantasy," but much more uncoordinated. It feels as though the producers only added them in so Skies did not sound so bare by himself. Other than that, the melody does not go anywhere interesting as an autotune-slathered Skies mozies through the track stripped of any humanity in his voice.
An instance when autotune actually works to his advantage is on "Lettuce Sandwich." His energetic flow mixed with a more nasal inflection, autotune and the best production on the whole project makes for an unexpected treat.
Out of the two major singles released for this project, "Red Roses" and "Nowadays," "Nowadays" is the clear superior of the two. Both tracks feature the album's sole guess, Landon Cube. I enjoy the moody sentiment of the track. I can also appreciate his flow changes. In the lyrics, he talks about fake friends who only support you after you have found success. Cube and Skies' chemistry add a lot to the song. Cube's choir boy vocals are melodically sweet and they help break up the monotony of Skies' voice.
Skies' biggest flaw is that he references his contemporaries a little too frequently to the point when it almost becomes mimicry. His voice has an uncanny to cadence to Drake. He comes off as a mixture of alternative R&B, Atlanta autotuned crooning and South Florida SoundCloud rap. On "Cloudy Skies," he even uses an instrumental and vocal styling similar to the late Lil Peep. The only aspects that prevent Skies from being a direct copy cat of his contemporaries are his lyrics.
Skies is noticeably putting in more effort into the meaning of his music than the average trap rapper. While there are the typical trap cliches—drugs, money and girls—woven within these cliches are personal lyrics adding up to a moderately entertaining storyline. Most of the lyrics circle around his come-up and how his personal life has been affected since blowing up. There is not anything that would win a poetry contest, but the lyrics do give the listener a better idea of who Skies really is.
Should you listen to it? Maybe.
Overall, listening to this was an enjoyable experience. I would recommend this to anyone who enjoys trap music and wants a little more until the subgenre fades from being the cultural zeitgeist in contemporary music. Despite their liberal use of autotune, Skies and Cube both have solid vocals, which are enjoyable to say the least. "Life of a Dark Rose" is a bit of a one-trick pony, but it is engaging front to back. Skies shows a decent amount of skill, but it would be nice to see him come into his own before the trap sound fades away completely. Hopefully he will be more ambitious in his future endeavors.
Favorite songs: "Nowadays," "Welcome to the Rodeo," "Lettuce Sandwich," "The Clique"
Least favorite song: "Garden"
Available on: Spotify and iTunes
Collegian reporter Henry Netherland can be reached at entertainment@.com or on Twitter @NetherlandHenry