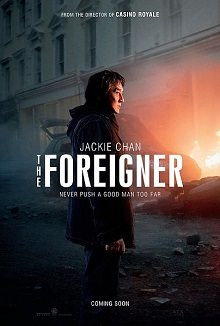 "The Foreigner" is not the movie that was advertised in trailers, and it is not the movie it should have been.
"The Foreigner," based on the novel "The Chinaman" by popular British thriller novelist Stephen Leather, follows Quan Ngoc Minh (Jackie Chan) after a terrorist attack kills his daughter. Orchestrated by a group called "Authentic IRA" the responsibility for solving the event is left to The First Minister Liam Hennessey (Pierce Brosnan) a former IRA leader. After failing to find the names of the terrorists from England's anti-terrorism investigation agency, Quan then tries to pry the names from Hennessey, suspecting that Hennessey knows more than he's letting on.
Meanwhile, Hennessey has called on his former IRA leaders to try and quell the situation while also investigating where this knew offshoot cell came from and where they're getting their supplies. Having failed to acquire the names peacefully, Quan calls on his old special forces training and sets out on conducting violent attacks on Hennessey and his circle in order to pry the names out of him. Things gradually escalate from there, eventually leading to the majority of the films taking place on Hennessey's farm estate Hennessey becoming embroiled in a multi-player conspiracy that spirals out of control.
 Just from the summary, you can probably guess this is a much more complicated story than the one advertised. The trailers certainly hinted at a sort of conspiracy but not one with this level of depth and complexity. This is one of the problems with adapting a film. For as much as people gripe about adaptations, some changes do need to be made in order to accommodate different mediums. There are multiple plot lines that interweave with each other, plans and goals aren't given enough time to be fully understood and the overall eventually becomes bogged down with how convoluted it is.
It becomes quickly apparent that the film is more concerned with the conspiracy and Pierce Brosnan's character than Quan, despite the film ostensibly being named after him. Almost the entire second act is focused on Hennessey and his struggle to balance multiple goals, relationships and parties while still trying to keep the whole situation calm. So much time was spent focusing on the conspiracy that I eventually began to wonder what happened to Chan's character. Quan is treated more like another nuisance to Hennessey than he is the central focus of the story. For a film titled "The Foreigner," Chan's character plays no active role in the story. He doesn't make the story happen. He's mainly a diversion by the second act.
Characters who later become crucial to the plot aren't given enough time to understand their motivations or personalities. They are given the same amount of time as minor characters when their actions drastically affect the story. There's also an odd incest element in the story that doesn't actually serve any greater purpose, and its necessity in the plot can easily be replaced by something else. Ultimately, the scene does nothing except discomfort the audience.
The fight scenes are brutal but creative. Chan is known to mix props and the environment into his fight scenes, and that comes through in spades here. Combined with Director Martin Campbell's (Casino Royale, Edge of Darkness) gritty style, you have fight scenes that are innovative, grounded and elegant. As I said the scenes make great use of the environment utilizing everything from piping, stairwells, sticks, etc. But they never become comical. They remain visceral, always keeping a sense of reality to them.
There were question surrounding the film if a now 63-year-old Chan would be able to keep up or would fall behind under the demands. But rest assured, he still moves at a pace that puts most professional athletes to shame. I'm still a bit dumbfounded anyone at any age can move with that much speed and precision. In addition to making great use of their surroundings, the hand-to-hand combat is a well-choreographed flurry of limbs.
However, the editing kills most of the intensity in a fight. There are so many cuts it becomes disorienting and can cause you to lose track of where the characters are and what they were doing.
The role is a big turn for Chan who is usually known for playing playful or comedic roles. If this is not one of his greater roles, it is certainly one of his most memorable ones. Chan gives an honest and believable performance as the serious and distressed Quan. Quan, despite being a very stone-faced character, is also easily understood. He's a traditional, stoic, worrisome father who just wants the simple things out of life, and Chan sells it completely. But when Quan turns serious, Chan gives off a calm and subtle intensity that at times becomes bone chilling to watch.
Should you watch it? Maybe
The character interactions feel realistic and earnest. The story is interesting at least but could stand to be more concise and not focus so much on Brosnan's character. Characterization is lacking in a few places, and there is very little of the story dedicated to Quan being an immigrant and the prejudice he faces. The film is decently entertaining but by no means should you feel compelled to see it.
Playing in Fort Collins:
-Cinemark Fort Collins
-Cinemark Bistro 
Ty Davis can be reached at entertainment@collegian.com or on Twitter @tydavisACW.