'Wind River' is a tale of the hidden brutal west
Nick Botkin
September 6, 2017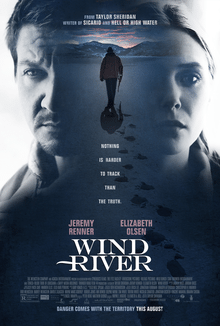 Movie: "Wind River"
Directed By: Taylor Sheridan
Genre: Action/Crime/Mystery
Starring: Jeremy Renner, Elizabeth Olsen, Kelsey Asbille
Release date: August 4
Running time: 111 minutes
Playing at: Cinemark Movie Bistro,  AMC Classic Fort Collins 10, Cinemark Fort Collins 16
Fun fact: According to IMDB, the location shoot was filmed under actual blizzardy conditions, with cast and crew being transported to locations via snowmobiles and snowcats. Regular vehicles were no match for the terrain.
As a Westerner, I've noticed movies set in our terrain take several forms. There's the idealized Old west, full of opportunity and grit. And then there's the contemporary west, a place where people struggle against the elements, often sans success. Taylor Sheridan's "Wind River" falls squarely into the second category. But, unlike other trope-filled depictions of the West, this one works nicely. In fact, the movie is based on actual events.
We open on a young woman running through a snow-filled meadow on a moonlit night. But, this is no romantic idyll. She is running with great determination and grit, trying to flee something or someone. This is clearly not enough. This opening scene hints at what is to come, a film in which characters are shaped by nature, too often for the worst. This is a rugged land, rife with killing, where rules lack efficacy or clout.
The woman's fate becomes clear when she is discovered by Cory Lambert (Jeremy Renner), a rough-and-ready game tracker. She is Natalie Hanson, an 18-year-old resident of the Wind River Reservation where she has been found. A FBI agent, Jane Banner (Elizabeth Olsen) steps in to investigate the possibility of murder. The movie truly begins to soar here, in large part because of the murder and its multiple meanings. On one level, it is about an investigation, but it's also a symbol of how the west has an ominous hold on its residents.
Power and control are a major part of this investigation. Characters battle over territory. Agent Banner specifically spars with locals, including Lambert, and Tribal Police Chief Ben, who regard her as a rookie. They mock her outsider status, with the chief remarking that she cannot even pack the proper attire for a snowstorm.
Characters are forced to deal with constant misfortunes, and the murder reveals significant wounds that have been festering. The movie's characters all grapple with their own issues, while trying to piece together this mystery. In Cory Lambert's case, the situation forces him to deal with the mysterious death of his own daughter three years before. Natalie's father grapples not only with the physical loss of his daughter, but also the emotional distance from his son.
"Drugs are his only family now," he says mournfully, trying to make sense of the situation.
The investigations reveal that Natalie had a boyfriend who worked at a drilling site. And here forces converge in a blood-filled event, replete with pent-up frustration, despair, and outright loneliness.
In spite of this all, there's still a certain grit and determination in the characters. As much as they lament their lives in this part of the west, the characters also come to terms with it, acknowledging that this is their own home.
"No matter how far you thought she ran," Lambert says in reference to Natalie's death, "she ran further. She's a fighter." And this spirit of fighting gives the movie a gravitas that saves it from the bin of tropes.
Should you see this movie? Absolutely.
A haunting picture of people on the margins, it packs a hard punch indeed.
Collegian reporter Mir-Yashar Seyedbagheri can be reached at entertainment@collegian.com. His Twitter handle is @dudesosad.