'IT' remake is the face of horror for a new generation
Ryan Greene
September 12, 2017
"The clowns are pissed at me," tweeted Stephen King.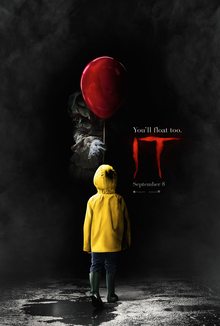 The legendary horror writer made news when Pam Moody, president of the World Clown Association, recently condemned one of his most infamous characters, Pennywise. According to USA Today, the WCA proclaimed that "People dressed as horror clowns are not 'real clowns.' They are taking something innocent and wholesome and perverting it to create fear in their audience."
With this statement, clowns all over the globe would join the rest of us in bracing for 2017's "IT." As this bloody reimagining quickly displays, there is plenty to fear.
"IT's" introductory minutes depict Pennywise's face splitting open like the mouth of Jaws, as he bites the arm off six-year-old Georgie (Jackson Robert Scott). A gloved hand stretches across the street, catching the fleeing boy and dragging him, still kicking, into a sewer drain.
While certainly a shocking way to acquaint audiences with this new, R-rated Pennywise (Bill Skarsgård), a nagging question crops up: is this film truly scary, or merely a string of shocking moments amplified by "Oldboy" director of photography Chung-hoon Chung's gorgeously gory visual style?
In favor of the shock and spectacle without real horror argument, it must be acknowledged that Pennywise's attack scenes display a predictable pattern. He isolates each of the six Loser's Club members, barraging them with their repressed fears. The intrigue in seeing exactly what keeps Bill, Ritchie, Beverly, Mike, Eddie and Stanley awake at night drives the plot but simultaneously loosens the film's grip on quality suspense. Instead of allowing us time to stew and feverishly anticipate the next attack, Muschietti's storytelling proffers a near-constant barrage of flute-playing dibbuks, lepers whose eyes run down their faces like raw eggs, bleeding bathroom sinks and groping hands covered in third-degree burns.
If there is genuine horror to be found here, it is contained in the young actors' faces. There is good reason for their truly evocative performances. According to his interview with "The Verge," Muschietti refused to let his other actors see Skarsgård in full clown garb, as he didn't want the cast to grow accustomed to the sight. The first time the children saw the 7-foot clown in person, it was chasing them through moldering, dimly lit houses and screaming maniacally. The tactic evidently worked, and the on-screen fear is palpable. The director told "IGN" that each of the children burst into tears after filming that first scene, prompting a guilt-ridden Skarsgård to apologize to them profusely.
Scarsgård's performance is another point in favor of seeing "IT" as horror and not just shock. Fans of the 1990 made-for-TV "IT" initially voiced disappointment when Tim Curry could not reprise his role as the razor-toothed clown. However, Curry's successor ably rebirths Pennywise into something new. Scarsgård's odd, natural ability to move his eyes in opposite directions yields deeply unsettling facial expressions without the need for much CGI alteration. His jerky, unnatural movements and the sadistic delight that streaks across his face when he torments the Losers Club also go a long way in making the viewer forget his more than passing resemblance to the pale-faced, large-foreheaded Red Queen of 2010's "Alice in Wonderland." If you can get past that unflattering visual similarity, Pennywise starts to look like a creepy clown nearly on par with Heath Ledger's Joker.
In King's mythology, the creature called IT awakens every 27 years to wreak havoc and feast, a concept New Line Cinemas capitalized on in their promotional material. "IT"'s release marks 27 years since the TV movie. Even Scarsgård's 27th birthday passed during shooting. Fortunately, fans will not have to wait until 2044 to see the sequel. Grown-up versions of the Loser's Club kids are set to return soon, as production on part II begins next year.
Should you see it? Yes.
Although the scares inhabit a space between true horror and mere shock, the film's greatest strength is its characterization. It manages to weave a grounded, coming-of-age story together with expressionistic sets and visual dynamism. Despite the disjointed, dream-like narrative, the viewer is always anchored in the kids' friendship, their humor and their deeply personal sadness.
In an interview with "ScreenSlam," King said of novel writing, "To me, it's all about character. If you like the characters, you don't want them to be spam in a cabin, you don't want them to be wiped out, you want them to live." If this is the gauge for a good story, then "IT" certainly is worth watching in spite of its flaws.
Rating: R (for violence/horror, bloody images and language)
Genre: Drama, Horror, Mystery & Suspense
Directed By: Andy Muschietti
Written By: Chase Palmer, Cary Joji Fukunaga, Gary Dauberman
In Theaters: Sep 8, 2017
Studio: Warner Bros. Pictures
Collegian reporter Ryan Greene can be reached at entertainment@collegian.com or on Twitter at @Ryangre75057034.