'Ingrid Goes West' criticizes modern social media dependence
Nick Botkin
September 12, 2017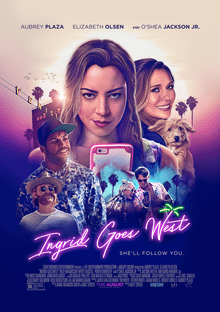 Ingrid Thorburn discovers that a so-called friend has failed to invite her to her wedding. How does Ingrid react? Does she talk it out with Charlotte? Does she shrug it off?
Nope. Instead, Ingrid crashes the party and sprays Charlotte with Mace.
With the words hashtag and emoji repeated throughout the movie, "Ingrid Goes West" is a powerful indictment of social media and the way it has shaped our interactions as human beings. And the movie makes a good case.
Ingrid Thorburn, played by Aubrey Plaza, is an avid Instagram user. She also has deep-rooted mental problems, partly stemming from her mother's death.
Forced into a mental institution, upon her release Ingrid hears one of Charlotte's friends talking in a grocery store. It is revealed that Charlotte simply commented on one of Ingrid's Instagram posts, and does not consider herself a friend. This speaks volumes about Ingrid's character, and highlights the depth of her troubled soul.
While reading a magazine, Ingrid comes across an article about a prominent socialite, Taylor Sloane, played by Elizabeth Olsen, in L.A. One particular sentence stands out: "I love making friends all over the world." And Ingrid is a woman without friends. Ingrid wants to be accepted, to belong and to be recognized. This line is a clarion call to Ingrid, a call to flee to Los Angeles.
In her quest to befriend Taylor, Ingrid goes to the most absurd lengths. She kidnaps Taylor's dog Rothko in a desperate effort to be a hero.  She spins a persona to stay in Taylor's graces. She even wrecks her landlord's truck on a trip to Joshua Tree with Taylor. Yet, the movie still manages to humanize an unstable and truly flawed character, keeping us emotionally invested.
Social media is key to the movie's action, and Instagram posts and texts are a ubiquitous leitmotif. Taylor alone posts on Instagram ad nauseam. Only Taylor's artist husband, Ezra, played by Wyatt Russell, seems to be resistant to social media and deception. He serves as the voice of reason, a rebel against an electronic cause. At one point, he mockingly refers to his wife's Instagram followers as Instafans.
"I just prefer to keep certain parts of my life private," he says firmly, revealing one of social media's worst consequences in the movie. It forces our characters, especially Ingrid and Taylor to take on new personas, to seduce, to lie and to manipulate.
Also worth mentioning is O'Shea Jackson Jr.'s role as Ingrid's love interest and landlord Dan Pinto. A Batman-obsessed, aspiring screenwriter, he is a source of comic relief and a fascinating character overall. I almost wish he had more time on the screen, especially given his commonalities with Ingrid. Like Ingrid, who relies on Instagram as a mask, Dan relies on Batman as a source of comfort. Both lost their parents. That would have been worth fleshing out further. But, that said, this is still a powerful, compelling film.
Should you see this movie? Yes.
Take friends. And put the cell phones away before the emojis and the hashtags hypnotize you.
Movie: "Ingrid Goes West."
Genre: Comedy-drama
Director: Matt Spicer
Release date: August 11, 2017
Starring: Aubrey Plaza, Elizabeth Olsen,  Billy Magnussen, Wyatt Russell, Pom Klementieff, O'Shea Jackson Jr.
Running time: 97 minutes
Playing at: Cinemark Fort Collins 16
Fun fact: O'Shea Jackson's second movie. His first was "Straight Outta Compton" in which he played his father, renowned rapper/actor Ice Cube.
Collegian reporter Mir-Yashar Seyedbagheri can be reached at entertainment@collegian.com. His Twitter handle is @dudesosad.