'American Assassin' regurgitates cliché protagonist narrative
Nick Botkin
September 19, 2017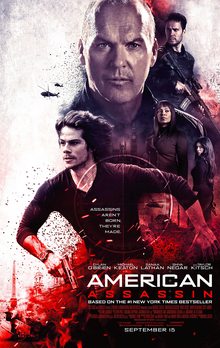 Movie: "American Assassin"
Director: Michael Cuesta
Genre: Action/thriller
Starring: Dylan O'Brien, Michael Keaton, Sanaa Lathan, Shiva Negar, Taylor Kitsch
Release Date: Sept. 15, 2017
Running Time: 111 minutes
Playing at: Cinemark Movie Bistro and XD,  Cinemark Fort Collins 16,  AMC Classic Fort Collins 10
Fun fact: According to IMDB, Gerard Butler, Colin Farrell and Matthew Fox were all considered for the lead role.
"You never start with a question," barks Michael Keaton's character in "American Assassin." "You start slow and get inside your subject's head."
Therein lies the inherent weakness of "American Assassin." It is a veritable kaleidoscope of blood and action, but lacking in character development. 
Case in point: The movie opens with our protagonist Mitch, played by Dylan O'Brien, on a beach in Spain. He is videotaping his proposal to his girlfriend, Katrina. Shortly after proposing, though, a legion of fundamentalist jihadists show up. A shootout ensues on the beach. Katrina is naturally a victim. Of course, as per the classic action movie formula, Mitch seeks out revenge.
"I gave up everything after that day," Mitch proclaims. He works out. He boxes. He goes to the shooting range. And, with a bloodthirsty zeal, he sets out to avenge the beach attack.
Mitch frequents an internet message board frequented by one of the terrorists responsible for the attack. Suffice it to say he manages to infiltrate their cell with the intention of seeking revenge. U.S. Special Forces raid the cell before he can seek vengeance, and Mitch is sent to a CIA safehouse.
Mitch impresses Irene Kennedy, played by Sanaa Lathan, with the CIA's counterterrorism unit and is subsequently offered the opportunity to join a black operations unit, headed by the cynical, former Navy Seal Stan Hurley, played by Michael Keaton.  And here, the movie swings into full action. The team learns that plutonium has gone missing from a Russian nuclear facility, and things heat up.
For all of its flaws, the movie moves us swiftly across the globe, from London to Warsaw to a safehouse in Romania to Rome. The movie highlights the transportation of the nuclear material and the team's efforts to get it back. The action here is certainly thrilling, but adds nothing to the oeuvre of action movies. There is no twist that subverts a classic formula. The movie is not lacking in entertainment, but it falls victim to its lack of originality for multiple reasons.
Having a protagonist with a tragic past is nothing new. The use of tragic backstory can work if it enhances our understanding of the character and moves the plot forward. The problem with "American Assassin" is the movie hits the same note over and over, reminding us not only that Mitch lost his girlfriend, but his parents as well years before. The movie would have benefitted from exploring how these tragedies shaped Mitch's overall character and worldview. Instead, we get a modern-day, orphaned version of Rambo.
In general, characters also seem to be plagued by clichés. Iranians and Middle Easterners are bearded and sinister, without any redemptive qualities. CIA players are egotistical and power-hungry, squabbling over tasks and territory, as one would expect. In particular, Hurley, the Navy Seal, is a hard-nosed cynic who rides his protégé Mitch to no end. While we get small hints of his past, we are not given enough to fully see Hurley as a flawed yet empathetic figure on the screen.
Should you watch it? No.
"Am I supposed to feel sorry for you?" Stan Hurley sneers at Mitch at one point. A good question that the filmmakers should have considered seriously in development.
Collegian reporter Mir-Yashar Seyedbagheri can be reached at entertainment@collegian.com. His Twitter handle is @dudesosad.