Summer is a season that is often dictated by the anthems blaring on the radio. Often it is when we start to hear from one-hit wonders, and when tours and albums get announced. It is a good time for fans of any genre. One band is fully capitalizing on that mentality and are succeeding with relative ease. Bleachers are back with their sophomore record and are trying to prove they are more than one hit wonders with "Gone Now." A record packed with so many punchy anthems, it will define a summer.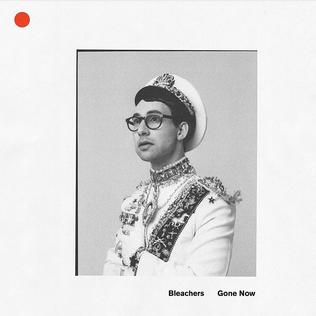 Bleachers have been somewhat of a huge name when they took the music world by storm with their debut album "Strange Desire" back in 2014. The band has only been around for three years and is already making waves with their music. This is mostly due to lead member Jack Antonoff, who has performed with bands such as Fun and Steel Train. He also is one of the most sought after song writers, penning hits for acts such as Taylor Swift, Lorde and Fifth Harmony. Antonoff has not struggled with writing catchy and infectious songs, and "Strange Desire" is a testament to that. Now Bleachers are out to do it all again with their sophomore releases "Gone Now."
"Gone Now" is a 12-track record that clocks in at around 41 minutes in length. Its biggest strength is also its largest weakness. While tracks are large and each try their hardest to stand out from one another, this means the album lacks a cohesive element. You will find a lot that tracks do not lead into one another. While most albums are designed to contain their fair share of peaks and valleys, this is one is almost all peaks. It has a lot of energy and does not unpack in a productive way. That is not to say that these tracks are not fun to listen to and the album is not enjoyable, because it is.
Musically, "Gone Now" is one stacked album, all the layers that are on each track are appealing on many different levels. When you listen to something like "I Miss Those Days" and the horns come in to accompany the rest of the track, it fills the space with such a unique energy. That is just one example of how diverse this album is; no two tracks sound the same and a lot of that stems from the fact that they have such diversity in how they were composed. The synth-heavy tracks like "Nothing Is U" give a stark comparison to more instrumental tracks like "All My Heroes." There is just so much happening on a musical level you cannot help but get the feeling of an identity crisis at times. There is no set sound that people associate with Bleachers, instead we get a huge contrast in sound when listening to tracks like "Hate That You Know Me" and "I'm Ready to Move On/Micky Mantle Reprise." Each track is as fun and enjoyable as any other, there is just no fluid or connecting structure to the project.
Lyrically, this is Antonoff questioning himself throughout the entire album. From the lead track "Dream of Micky Mantle" he questions whether or not he is a good as he thinks he is. Tracks like "Don't Take The Money" and "Lets Get Married" deal with issues of success in terms with one's self and loved ones. There is a lot of serious topics in an otherwise fun record. While it is a conflicting issue, it does not deter from how catchy choruses can be. Before you know it, you are singing along to "Foreign Girls" or "Goodmorning." Antonoff is a fantastic song writer and has only been getting better over the time. "Gone Now" is some of his best to date. Something that helps a lot of these tracks are some of the guest spots, spoken word elements and recalls to earlier tracks. This is both refreshing and stands out as a hit pop album.
Should you listen to it?: Yes.
Bleachers are trying to stand out with "Gone Now" and have managed to just that. While it does come off as a bit uneven at times, it is filled to the brim with tracks that are just waiting to break out. Anthems follow one another and while there is not necessarily a narrative structure to the album, there is something for everyone. It is not hard to just let loose and enjoy "Gone Now" for what it is: a fun and energetic pop album.