Alec Reviews Music: New Found Glory delivers summer anthems with 'Makes Me Sick'
Synthesizer-filled catchy tunes that still pack a pop-punk punch is the best way to describe the latest project from New Found Glory. While it has been three years since their more hardcore attempt at a record with "Resurrection," it is still outstanding that this band is pushing out new and compelling music. With a career spanning two decades, the band has been proving why they have no trouble putting out fun and exciting music with their latest project, "Makes Me Sick."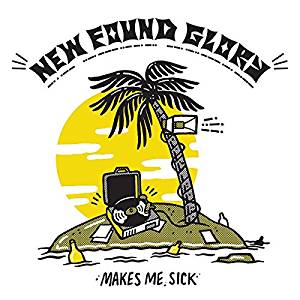 New Found Glory based out of Coral Springs, Florida got their start around 1997. This is a band that is famous for defining the pop-punk genre in the late 1990s. As they grew up they matured and change their sound before making a return to their roots. The band's first studio album "Nothing Gold Can Stay" was critically acclaimed. After that, the band has never struggled much in staying relevant and constantly put out songs that dominated the airwaves. Their sixth studio album "Resurrection" saw the departure of long-time member Steve Klein. Most of the original members such as Jordan Pundik, Chad Gilbert and Ian Grushka remain. Listeners can see how much they have matured and the amount of influence in their latest release, "Makes Me Sick."
"Makes Me Sick" is a 10-track record that clocks in at around 35 minutes in length. From front to back, it is filled with catchy fun tracks to get everyone in the mood for the summer. With the album taking a more lighthearted approach than its predecessor, this album is a tone shift for fans to get into. But if they stick with it throughout the entire album, it makes it just that more appealing. This album is geared to have a lot more lighter vibes associated with it. While it does take on themes of the more serious sides of relationships, it does so in a more lighthearted and tasteful way.
Starting us off musically are the heavy presence of synthesizers, which are noticeable right off the bat within the opening track "Your Jokes Aren't Funny." The layers on the track do a great job of bridging the new and old. The synthesizers take listeners back to the early 2000s, the guitar riffs and rhythm are all new and catchy enough to get you moving along with the song. One track that stands out above the rest for how well this works is "Barbed Wire," when the keys are layered to a point when they are helping with all of the rock elements. However, there are moments when it gets cheesy. That is mostly the problem with "The Sound of Two Voices," which is done in a much more 1980s-synth-pop way than new-age rock music. It is because of this why "The Sound of Two Voices" is the only track that detracts from the album.
Lyrically, this is some of Pundik's cleanest work on vocals. While some tracks get the boring treatment and have repetitive structure like "Party on Apocalypse" and "Blurred Vision," they still are fun tracks in their own rights. Outside of that, we get a very odd mix of tones where we have the classic New Found Glory angst taking on relationships, but in a cheerier kind of way. Tracks like "Happy Being Miserable" and "Cheapest Thrill" both go the existential route on why relationships exist. It is refreshing to hear, but it is easy to understand why some people might feel caught off guard. Overall, it is not as aggressive and is geared more toward having a good time, which you can certainly hear on tracks like "Short and Sweet" and "Call Me Anti-Social." "Makes Me Sick" is what the title suggests. The band is over the whole cliché love stuff and are more focused on having a good time. This is something they manage to do well.
Should you listen to it?: YES!
New Found Glory has proven why they have been such top selling band for 20 years now. "Makes Me Sick" is the perfect album heading into the summer and it is filled with plenty of good, fun vibes. While there is a misstep here and there within the record, overall this is a very well-produced album. It is not as pop-punk as some people may suspect it to be, and that is something that a lot of people may find enjoyable. The title of the album may be a little misleading, it will not make you sick, it will make you have a good time.
Collegian reporter Alec Erickson can be reached at entertainment@collegian.com or on Twitter @CTV_Ace.