Alec Reviews Music: Sundressed finds footing with 'A Little Less Put Together'
Alec Erickson
April 10, 2017
Debut records have a lot of pressure surrounding them. For many artists this is the record that will define their initial success and hopefully lead to a sophomore record.
There is a certain quality about debuts. They are raw and have a certain level of energy surrounding them. That is exactly the case with the debut record from Sundressed. "A Little Less Put Together" is a record all about defining who the band is in a very relatable way.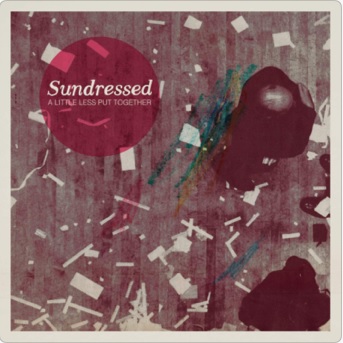 Arizona-based pop-punk band Sundressed is relatively new in the scene. The band has only been around for a handful of years and has put out a couple of extended plays. While "Beck and Call" has garnered enough attention on its own, the band is out to prove that they are more than just a few tracks here and there. That is what brings us to their first full length album "A Little Less Put Together." This is the band coming to terms with their own sound and trying to be unique in their own way too.
"A Little Less Put Together" is an 11-track record that clocks in at around 37 minutes in length. Stylistically, it could be called pop-punk, but that would not be fair to how unique the music is in comparison with the rest of the genre. The band is influenced by emo and indie bands and it is not hard to hear that if you know which tracks to listen to. Regardless, Sundressed is a breath of fresh air in an otherwise stale scene. No track on the entire record is too cookie cutter or over-produced. This is what you want from a debut record.
Musically, plenty of tracks are mixed well enough but still have that raw edge about them, especially while listening to tracks like "Limelight" or "Autopilot." It is hard not to find some catchy melody to sing along with or a good rhythm to tap your foot along to. Sundressed has managed to take a whole record and make every track stand on its own two feet. There is not a dull moment listening to this record. It is hard for it to have one with such exciting tracks like "Feelings Mart" or "Gentle Giant." Overall, on a musical level this is a very well-produced record that is just trying to show off the talent the band has as musicians.
Lyrically, the unique thing about "A Little Less Put Together" is how personal and relatable the songs are. Those are two attributes that do not typically go hand in hand. The overall theme here is that it is okay not to have everything in life put together. You can pick up that vibe from tracks like "A Frankford Night" or "Until We've Got Nothing Left." What works the best for the lyrics on this record is the delivery by vocalist Trevor Hedges. It is easy to connect with the lyrics when there is a strong voice selling you on the subject matter. Plus, when you have such upbeat tracks like "Gentle Giant" or the closing track "Something Good," you cannot help but feel something when listening along. It is very easy to get emotionally attached to this record.
Should you listen to it?: Without a doubt!
Sundressed are still trying to find who they are as musicians, yet they want you as the listener to come on a journey with them. There is a lot of raw talent within this young band that is waiting to come out. "A Little Less Put Together" is a just a sample of what they can accomplish and it should get you excited for the future with Sundressed. You will find something to relate to this record without much trouble. With how well each track leads into the next you will be listening to the entire record before you know it. Sundressed has taken a huge step into the world of music.
Collegian reporter Alec Erickson can be reached at entertainment@collegian.com or on Twitter @CTV_Ace.