'Adventure Time's' seventh season succeeds creatively but lacks nuance
Hannah Ditzenberger
March 9, 2016
Filled with talking cinnamon buns, dessert drinks and other candy items, "Adventure Time" seems sweet at first taste. But the Cartoon Network show is just as much about heroic undertakings as it is about the magical Land of Ooo.
Set in a post-apocalyptic world, "Adventure Time" revolves around the escapades of adopted brothers Finn, the only human left, and Jake, a personified dog with stretching powers. In season seven — which is currently in progress — the two fight evil with the help of their friends. Though it contains some dull and moralizing moments, this season's visuals, characters and story-lines immerse its audience in creativity. 
Season seven is full of the well-loved, beautiful animation that has distinguished the show in the past. Though each episode is written and drawn in the United States, animation occurs in South Korea, giving it a slight anime vibe. Each one takes three to four months to produce, and the time commitment is obvious in the visuals. The directors have fun with the animation, too, using Easter eggs like a tiny snail waving at the audience in every episode. If anything, the fun, trippy and careful animation makes this show worthwhile. 
This season also includes one episode from guest animator Kirsten Lepore. "Bad Jubies" is a stop-motion episode made entirely of clay. This is the first time I have become excited about claymation since "Rudolph the Red-Nosed Reindeer." Lepore animated the video's background in addition to the characters, which made this claymation stand out from typical childhood videos. 
A clip from "Bad Jubies." (Courtesy of Cartoon Network.)
Beyond the visuals, one of the new highlights from the season is the King of Ooo — voice actor Andrew Daly does an excellent job of making him annoying and comically sinister. I hate this character. Like Lemon Grab in past seasons, the king's presence agitates me, but that's the point. The show succeeds in making the king, a cartoon character, believable. 
The season continues the show's trend of in-depth character development. A mini-series about Marceline, called "Stakes," goes into her history and personality. Though I am biased — Marceline is my favorite character — these may be some of the show's best episodes. They create empathy for Marci's emotional outbursts, give clarity for how the post-apocalyptic world came to be and show the nuanced friendships between the lead characters.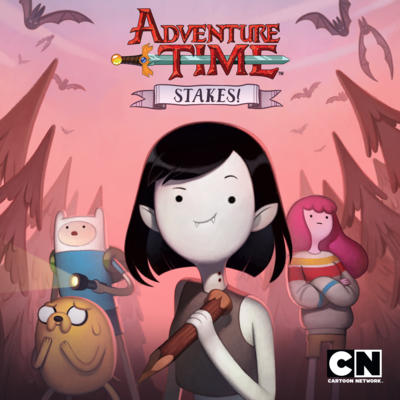 Though we do see some of Princess Bubblegum's growth in this mini-series, the authors have done the show a disservice by not going further with this. The princess continues to be calculated, and we still do not know much of her backstory. The authors have steadily revealed more about the Ice King, Finn, Jake and others, but the princess lags behind. While we are beginning to see a softer side of her character, one less concerned with control, the writers should have kept her progress consistent with the other characters. She has become stale. 
In an attempt to also make BMO, a childlike robot that lives with Finn and Jake, more dynamic, there are three episodes about him. Redundant and boring, the episodes don't work. They play off of cliches and predictable story-lines. BMO is not important enough to dedicate this much time to, making me wonder if the authors were running out of ideas. Maybe they should have given the time to Bubblegum instead? 
Finally, this season emphasizes morals, teamwork and other didactic themes. While the lessons are good, the writers have not presented them subtly enough.  In the second episode, "Varmits," Princess Bubblegum and Marceline fight off creatures that have been eating Bubblegum's pumpkins. At the end of the episode, Bubblegum thanks Marci for her help, saying that she cannot do these things on her own. The episode would have been more effective without this ending. The writers seem to have forgotten their audience consists primarily of teenagers and young adults, groups that can recognize parables without blunt messages. 
Overall, I have enjoyed this season. Though the authors and directors seem to be experiencing some growing pains — they need to find a variety of story ideas, figure out which characters are a priority and develop nuance — they still know how to create fun, engaging and magical stories. Season seven is worth your time. 
Final Score: 7/10
Collegian A&C Editor Hannah Ditzenberger can be reached at entertainment@collegian.com or on Twitter @h_ditzenberger.