Film review: 'Listen to Me Marlon'
Morgan Smith
August 31, 2015
My IMDb rating: 9/10
10 … nine … eight … seven … six … five … four … three … two … one … zero.
This is how Marlon Brando, the greatest actor who ever lived, begins his own biography. The entire film is told by him, in fact, through old private recordings. This opening is eerily similar to old recordings of NASA rocket launches. Much like the space shuttle Endeavour, Brando shot straight to the top very early in his acting career with his performance in "A Streetcar Named Desire." However, it took his whole life before that to acquire the fuel.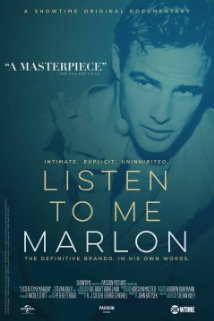 The film itself begins with a scandal. It is 1990, and Marlon Brando, once the biggest star in the world, has entered the fray of media and celebrity after years of reclusiveness. His son, Christian, shot a man at Brando's house. From the archival news footage we see that Brando has more on his mind than most people think.
Then comes a glimpse of the future. We are greeted with a digitized version of Brando's head, making faces, giving Shakespearean monologues. Brando, in one of his personal audio tapes, calls it the future of acting. Maybe he's right. It seems ridiculous, but Brando's track record for predicting and enacting the future of acting and film itself is spot-on.
Through Brando himself, with bits and pieces of hundreds of hours of previously-unheard audio recordings, we observe a truthful recollection of his childhood. Three characters played a formative role. There's his cruel, unsupportive and alcoholic father, who never believed in him. There's Stella Adler, the woman who took Russian Constantin Stanislayvksi's acting techniques and theories and brought them to America, thus method acting was born. Her students included Paul Newman, Al Pacino, Dustin Hoffman, Marilyn Monroe, Jane Fonda, Jack Nicholson, Warren Beatty, Robert DeNiro and most importantly, Marlon Brando.
Finally, there's Dodie Brando, Marlon's mother, whom he loved more than life itself. He described her as "poetic," and as being more beautiful than any mortal woman could ever be. She was an actress herself and helped Henry Fonda begin his career while she was in the theater. She was also an alcoholic. In the film, Brando spoke in a melancholy tone about her, citing his distancing from her as the reason for his childhood troubles and acting out. His father didn't help, either.
In one disturbing scene, with all due aggression and sincerity, Brando said that one night, when he was just a child, he saw his father hitting his mother and said, "If you hit her one more goddamn time … I'm going to kill you."
Under such circumstances, few people would have ever succeeded at anything. But Brando found the theater and then film, and the rest is history. Brando pioneered a new kind of acting, at one point saying, "Make 'em stop moving their arms from the popcorn to their mouth. Make 'em stop chewing." Behind me in the theater, a man and woman promptly and respectfully stopped eating their own popcorn.
Brando took several long breaks from acting, tired out by the commerciality of Hollywood. One such break happened in Tahiti after the filming of "Mutiny on the Bounty," where Brando met his third wife and had a child with her. He remarked in his audio tapes that the Tahitian people were like beautiful children, unaware of ambitions, stress or hardships that Americans routinely place upon themselves.
He vowed to never be like his father, vowed to ensure that his children would be given a better chance than himself. The great tragedy of Brando is that, in a way, he did become a bit like his father, and he knew it. His children were estranged from him, one went to prison and another killed herself. It was a self-fulfilling prophecy for him, one that haunted him until the end of his days.
"Listen to Me Marlon" is only playing at The Lyric Cinema Café.
Collegian Film Critic Morgan Smith can be reached at entertainment@collegian.com or on Twitter @MDSFilms.