Roastin' with Rick: Moby Dick Sativa
Disclaimer: Under Colorado law, the use of marijuana is restricted to those aged 21 and older or those with a valid medical marijuana license. Colorado State University does not allow the possession or consumption of marijuana, recreational or medical, anywhere on campus. The Collegian does not condone underage consumption of marijuana.
(Edited by Lawrence Lam)
As I promised in my last review, I'll be looking into and enjoying a nice sativa strain this week — the fantastic Moby Dick.
For this review, instead of driving out to Choice Organics to get this strain, I drove over to Infinite Wellness Center on North College Avenue. This place was pretty nice — there was no wait, the service was awesome, they had a huge selection and I was even able to save a little money with my purchase.
Being a literature major, I couldn't help myself when I saw a big jar labelled "Moby Dick 'S'" — the 'S' is for sativa, obviously, but in case you didn't know, you sure do now. I bought one gram of 21.9 percent THC Moby Dick for $16.44, including tax, and headed home to take a closer look, a better sniff and big toke.
Before really observing and examining this marijuana, I did a little research, and it turns out that it's technically a hybrid between the mainly indica hybrid White Widow strain and the sativa Haze strain. When those two get together, the product is the glorious, sativa-dominant hybrid that is Moby Dick. So it's basically a sativa, but it's a sativa-hybrid and we'll just call it a sativa strain, OK?
The bud of Moby Dick is a beautiful flower. Its perfectly light green hue highlights the yellow and orange hairs that protrude from every nook and cranny. Unlike the Afghani Indica that I reviewed last time, Moby Dick isn't riddled with sparkly trichomes on the outside, but its natural colors are a lot more vibrant.
The smell isn't very strong and doesn't have the "skunky" smell that a lot of other marijuana strains have. Some strains can be laid on the table in one room and the aroma lingers throughout the whole house. I had these buds nearly in my nostrils before I could really pick up on their full scent. It's a mostly citrus-like aroma with this amazing vanilla smell that comes through very subtly.
Now, the flowers from the Moby Dick strain aren't as big as the ones that came from the Afghani Indica, but they are much more dense. In between my fingers, I could barely crush the buds completely — when I did, though, it made this magnificent crunch. On that note, I could barely break up the nugs by hand, so I used my grinder and it was smooth sailing.
I smoked the strain out of a one-and-a-half-foot-tall bong with a single-turbine percolator from Kind Creations. The turbine percolator may, in fact, be my favorite percolator. It makes for an easier pull from the piece, a smooth toke and the water looks like a tornado when it goes through the percolator. Let's be honest, that's pretty awesome.
The first hit was a little harsh on the back of my throat. The taste was mostly sweet and those vanilla undertones came through with force in the taste. Surprisingly, there was little-to-no smoky flavor in either the initial hit or the aftertaste.
The high was … incredible. Like most sativa strains, the high from Moby Dick was completely cerebral with no strong elements of a body high. I wasn't tired at all, rather I was incredibly energetic and even motivated to be active and productive. This strain would be really good for someone with high anxiety because it completely depleted all of my anxious feelings. I did some laundry, did the dishes, made a couple of playlists to enjoy, organized my planner and even did some research for one of my final projects.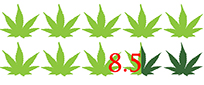 On the negative side, my eyes were a little more dry than usual and I had slightly strong cottonmouth, but a glass of water solved that problem quickly. The only other negative aspect of the high was that I talked a lot and told horrible jokes that none of my roommates laughed at. I laughed a lot, so it wasn't really that bad, and next time I'll find a less frugal audience.
To wrap things up, the Moby Dick sativa gets 8.5 leaves out of 10, and I think it may have even earned a comfortable spot on my personal top-10 favorite strains.
Good luck on finals Rams, and look for my next review coming out Monday, May 18. Next time I'll be reviewing a concentrate, and it'll be great.
Collegian Marijuana Reviewer Rick Cookson can be reached at rcookson@collegian.com or on Twitter @RickCookson1.