Film Review: Keanu Reeves is back as "John Wick"
Morgan Smith
October 29, 2014
Yeah … I'm thinking that Keanu Reeves is back.
"John Wick" was co-directed by David Leitch and Chad Stahelski. It is their directorial debuts, following their long and notable career as stuntmen.
Leitch and Stahelski worked with Reeves previously, training him and directing his fighting scenes in the Matrix series. Their previous experience together resulted in natural and effective action scenes throughout the film.
Reeves plays a retired hit-man for a powerful crime organization who is suddenly thrust back into the world of murder and revenge when his dog is killed by home invaders and his car is stolen. The the dog was a gift from Wick's dead wife. The man who killed the dog and stole Wick's car, played by Alfie Allen, a.k.a. Theon Greyjoy from"Game of Thrones," is the son of the head of the crime organization Wick retired from.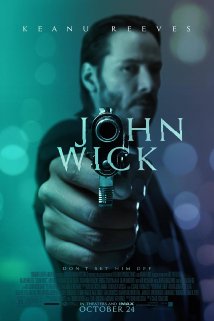 The audience is left mostly unaware of the background of the universe "John Wick" is set in, besides the fact that John Wick is not somebody to be messed with. The plot seemed too cheesy and simple from the trailer, but Wick's revenge path is absolutely warranted in the opening scenes of the film. That was the most adorable dog ever and nobody likes Theon Greyjoy anyway.
"John Wick" is definitely one of the biggest surprises of the season, coming out of nowhere and garnering the strongest reviews for an action thriller since "The Raid 2."
"John Wick's" action sequences are painstakingly choreographed, with most scenes being done in long takes and wide shots, meaning that Reeves' ability to look good while shooting people was perfectly showcased.
Words can't describe how amazing the action scenes were. They're comparable to "The Matrix," "The Raid: Redemption" and "Equilibrium."
"John Wick" featured some of the most believable modern action of any film in a long time.
The silencers make the correct noises, unlike other films where the director believes that a silencer actually eliminates all noise … they don't. The reloads happen quite often and at appropriate times, and actually contribute to the choreography.
Also, as a hit-man conceivably should do, Wick goes for head-shots on every attacker, and hits almost every single shot. It's a nice break from action films where nobody can seem to hit the broad side of a barn and supposed "marksmen" can only hit people in the shoulders or the side.
Ian McShane, Willem Dafoe and Alfie Allen did well as a supporting cast, but this really was a film tailor-made for Keanu Reeves.
Action movies shouldn't depend on story or character depth. They should depend on action. What "John Wick" lacks in background story or developed plot and character development, it makes up for in action.
Most of the film is composed of scenes centering around Wick decimating enemies with perfect aim and clearly disciplined training.
Don't expect "John Wick" to win any awards or make a huge splash at the box office, but do continue to follow the careers of Leitch and Stahelski with their mastery in action choreography. This is just the beginning.
Collegian A&E Film Beat Writer Morgan Smith can be reached at entertainment@collegian.com or on Twitter @MDSFilms.