Get slammed with poetry at the Slamogadro Poetry Slam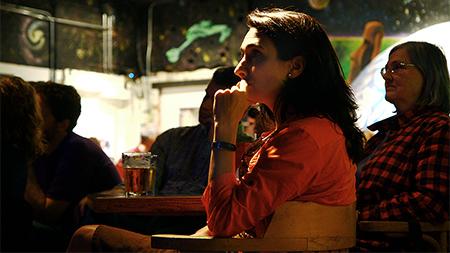 Roses are red, violets are blue, go to Avogadro's and the poets will slam you. This Sunday, Avogadro's Number will host the first monthly Slamogadro poetry slam.
Sunday's slam marks the first of a new tradition, which will take place on the last Sunday of every month. The event, which is completely student-run and organized, is free to attend or compete in. The winner of the slam will receive $20.
Andrew Walker, a sophomore English education major, was one of the students who created Slamogadro and planned the slam.
"At the poetry slams that happen the first Friday of every month at The Bean Cycle, they mentioned that they wanted more poetry slams around Fort Collins," Walker said. "So we decided that we'd all band together and try and make one."
And, they did. According to Walker, anyone and everyone is welcome to sign up for the competition. Everyone who wants to compete will have his or her name put in a jar and 12 names will be chosen from the jar.
All 12 performers will compete in the first round of competition. Five unbiased judges will be chosen from the audience to score each poet. The six poets with the highest scores will move on to the second round.
The three highest scores from round two will go to the third round and the winner will be chosen following that round.
Although Walker often performs at the Bean Cycle on Friday nights, he won't be performing Sunday. Instead, he'll be hosting the competition. Walker said the time limit is three minutes, "but we're not too stingy about that."
Kate McHargue, junior English major and co-founder of Slamogadro, said the event is open to everybody. McHargue said she started attending slam events about a year ago and is now "completely hooked."
Even the judges don't have to know a lot about poetry to enjoy the slam, according to McHargue. She said the poets are judged on how well they move the audience.
And, usually, the audience gets into the event, according to McHargue.
"Everybody there is super excited and the slams themselves are often super energetic," she said. "There's just a natural high in the room."
Summers Baker, a junior English major who helped create Slamogadro, also enjoys the atmosphere of poetry slams.
"What I love about slam poetry is how it brings people together," Baker said. "I love the community most of all."
The creators of Slamogadro aim to get accredited by Poetry Slam, Inc. so they can take a team to nationals next March.
According to McHargue, Slamogadro must do a lot to earn accreditation. They basically have to prove that they are a real organization with monthly competitions. McHargue said it takes about a year to get accredited.
Baker has been writing poetry since he was a junior in high school and has performed in several Friday night slams at the Bean Cycle.
Although not competing in the slam, Baker will recite the opening poem in what is called the "sacrificial goat," which lets judges practice scoring and warms up the audience and performers.
Baker said people who are new to poetry slams will be surprised at how energetic they are.
"I've had many friends tell me it was a life-changing experience," Baker said. "I think that's how the community grows — it really draws people in."
Signup opens at Avogadro's Number at 7 p.m. and the event will start at 7:30 p.m.
The creators of Slamogadro are excited to see the turnout Sunday.
"We hope to see everyone there," Baker said. "It's going to be a great event and we're excited to have a new poetry slam in Fort Collins."
Collegian Entertainment Assistant Editor Amber Johnson can be reached at entertainment@collegian.com.