Tony Frank to give up destroying buildings for Lent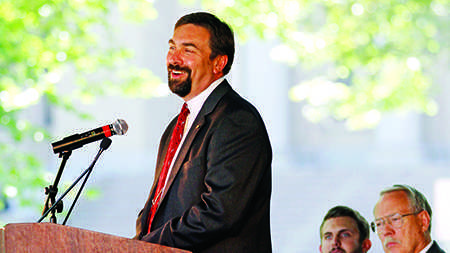 During a press conference today, Tony Frank expressed his intent to give up destroying buildings for Lent. Frank, a well known building destruction enthusiast and co-president of the CSU Demolition Club, made the announcement to an assembly of journalists, construction workers and that one freshman who always shows up to the wrong class.
"It was a tough decision," Frank said. "It was either going to be this or my debilitating  Skittle addiction. Ultimately, I gave up the more destructive one."
"I just hope that this lasts for more than 40 days," said Frank's wife, Dr. Patti Helper. "It started out so benign—knocking over LEGOs, sandcastles, a Port-A-Potty here and there—you know, typical 43-year-old university President stuff."
The addiction to knocking things over did not truly take hold of Frank's life until his senile grandmother purchased what she believed to be Sim City for his 40th birthday, but was in fact an industrial bulldozer.
When Frank climbed into what he believed to be the game console, he was shocked at the realistically rendered 3-D graphics. He then began pulling levers and hitting buttons at random, as any middle-aged man with a doctorate would do in such a situation.
"And just like that," Helper said, "Poudre Hospital was gone."
Over the next few months, building after building was destroyed by Frank, with onlookers, family members and LSC enthusiasts refusing to intervene because, "He looked like he was having so much fun."
"I didn't realize how far I had fallen until I destroyed the Ramskeller," Frank said. "That was also when I realized it wasn't a video game. There was a lot of screaming."
Realizing that he had hit rock bottom, Frank started looking for an excuse to kick the addiction.
"I considered giving up destroying buildings for Labor Day, Thanksgiving, and even the first day of autumn, but Lent just felt right somehow," Frank said.
Sources close to Frank report he's not even Catholic.
"After Lent, I hope to give up destroying buildings for good, relapsing no more than two, maybe three times," Frank said.
In spite of this, he assured reporters that he had no intention to alter his current plans to destroy the Eddy building.
"English majors aren't legit," Frank said, to the riotous applause of the journalists in attendance, whose one consolation in life is that they're not English majors.
As of press time, Frank was last seen wandering the halls of Eddy, pushing over Creative Writing majors and making explosion noises with his mouth.
The satirical Water Closet Weekly is written by Niles Hachmeister, Patrick Hoehne, Chris Vanjonack and Andrew Walker and can be reached at entertainment@collegian.com. Look for the WCW online at waterclosetweekly.com. We really think we lost it this time.