Hike to Colorado's Gem Lake this weekend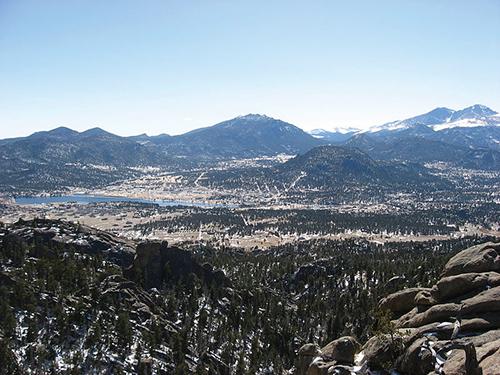 Normally, I am a big fan of heading up into the mountains and disappearing for the whole day.  But sometimes school and work take up so much time that I can't devote a whole day to exploring the hills. So, there is something to be said for a short hike that really packs a punch in terms of difficulty and spectacle.
This weekend, I recommend a trip up to Gem Lake. Yes, I know, another lake — but the almighty ski season is right around the corner and I can't help but squeeze in one more.
This short hike is just north of Estes Park and is both a challenging climb and an enjoyable lookout.
From the trailhead, you'll head up into those beautiful rock formations that loom over the north side of Estes Park. The trail slips through a ravine that quickly pitches upward between two cliff faces. The trail is steep and loaded with rocky switchbacks.
Once the trail hoists itself up between these two cliffs there's not a whole lot of tree cover. It's a great hike for the kind of weather we have been having. There's lots of sunshine to keep you warm in the late fall air, but if the wind picks up it could be very cold. Also, when they get more snow, it could get very icy. On the other hand, if we get some more heat, this could be a very hot hike.
Just check the weather before you go so you know what to expect.
On the way up, you will catch views of Glacier Gorge, the Front Range and Estes Park. It should be interesting to see how much snow they have up on those peaks already.
The lake pools at the base of a cliff. Later in winter, it'll freeze over so you can walk on it. Just be extra careful, whatever you do.
If you wish you can continue on the trail, or you could head up the backside of the cliff that overlooks the lake and scramble up. From there, you can see the all the foothills to the east and north of Estes.
To get here, take College Avenue, Shields Street or Taft Hill Road down into Loveland. Turn Right (West) on Eisenhower Boulevard (Highway 34) and head up The Big Thompson Canyon into Estes Park. From the intersection of Highways 34, 36 and 7 in Estes, head North (right) on Highway 34. You'll pass the Stanley Hotel in just under a half-mile. Then head north on McGregor Avenue  (Devils Gulch Road). Go 1.6 miles and watch for a brown sign for the Lumpy Ridge Trailhead. Turn north on the signed road and follow it a couple hundred yards to the parking. This trail has no fee!