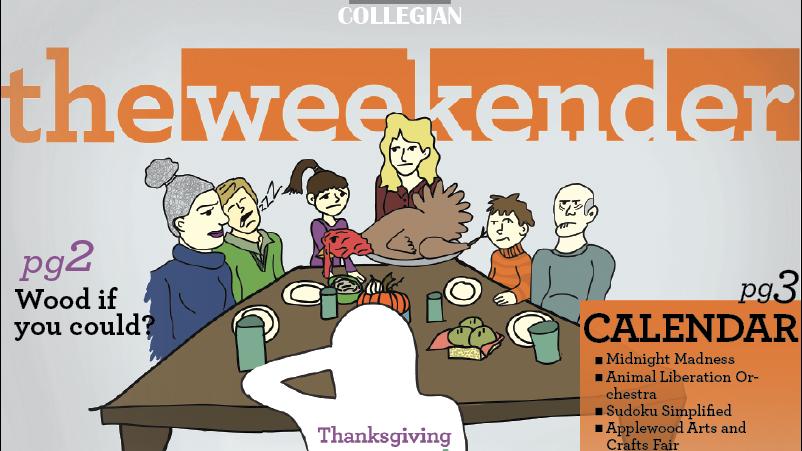 How to deal with family:
– Perfect the smile and nod: When grandma tells you about her bridge group and how her bowel movements are going, there's only one thing to do. And that's to be as physically present and as mentally absent as possible.
– Come up with three topics that you've learned in class to convince your parents you're not just spending all their money on beer. It could be a new word you picked up when you didn't understand that prompt on your midterm, that concept in philosophy that will go over your parents' heads or a topic in sociology that you know your dad will disagree with. Another key tip would be to stash a few beers in your travel duffle to get through the family dinners.
– Help out at least once around the house. It's easy to get back into the swing of things, meaning have your mother do everything for you. But it would be a wise decision to maybe do one load of laundry, set the table for Thanksgiving, help with the dishes or entertain some younger family members, if only to pretend you're a responsible and upstanding member of society all the time.
Things to do before dinner:
– Go to a movie

For the kids:
Rise of the Guardians
Wreck-It Ralph
The Twilight Saga: Breaking Dawn – Part 2: Though it might not be exactly toddler material, anyone over the age of 14 should be embarrassed to be at this movie.
Dramas
Silver Linings Playbook: Bradley Cooper and Robert De Niro in one place
Life of Pi: Based on a hugely popular bestselling book about a boy and a tiger stranded in the ocean; the book mostly takes place in Pi's head, but this actually looks really interesting
Action
Red Dawn: This remake of the 1984 movie is about the coming of WWIII in suburbia.
Skyfall: the new James Bond movie. Although most people who want to see it will have already done so by Thanksgiving, it's an action movie that's suited for most of the family
– Watch/play football: A classic American past time for a classic American holiday. What's more patriotic than burly men in tight pants?
– Write your term papers: A novel idea, but maybe it's time to sit down and write those term papers that you've been putting off. Maybe it's easier to focus when you don't have drunken roommates threatening to hurl on the carpet. Or when you're not drunkenly considering hurling on the carpet.
– Donate turkeys to food banks: It's easy to pick up an extra turkey at the grocery store or other food items for those less fortunate than you this holiday. Spread the wealth or the tryptophan.
Breakout:
Food Bank for Larimer County: Food donations are accepted Monday through Friday from 8 a.m. to 4 p.m. at the Food Bank warehouse in Fort Collins.
Peanut butter
Turkeys
Canned vegetables/fruit
Canned meat/fish (chicken, salmon, tuna)
Beans
Pasta/Rice
Cereal
Oatmeal/Grits
Shelf-stable milk
Healthy kids snacks

Black Friday:
After coming out of their food coma, Americans all over the country will be lining up in the early morning hours of Black Friday —and Thursday night — to get outrageous deals. If you're planning on burning off those extra calories from the day before by running around and pulling electronics out of other shoppers' hands then here are some deals to get you started for planning your Black Friday.
Stores with deals beginning at 8 p.m. Thanksgiving night
– Walmart
– K-mart
– Sears
– Toy'R'Us
9 p.m.
– Outlets at Loveland — stores will be open 24-hours straight
– Target
Midnight
– Best Buy
– Dick's Sporting Goods
– GameStop
– Old Navy
– Kohl's
– Macy's
– Sports Authority
5 a.m.
– Ace Hardware
– Home Depot
– Lowe's
– Michael's
– Office Depot
– Staples
6 a.m.
– Bed Bath & Beyond
– JC Penny
– Office Max
– PetsMart
– Radioshack
7 a.m. and later
– Cost Plus World Market
– Kind Creations
– Sam's Club