What to expect from Saturday's Cobra Starship and Breathe Carolina concert at Colorado State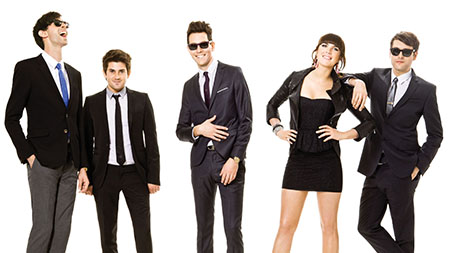 As legend (or the iTunes biography) tells the origins of Cobra Starship, the band began after frontman Gabe Saporta met a talking cobra in the deserts of Arizona.
Believe the tale if you want, but at least you can shout out the question to Cobra Starship as they headline the annual RamJam concert Saturday with Breathe Carolina.
But what's this year's show going to look like compared to previous ASAP concerts?
The setup will be similar to last year's, with the stage facing south on the intramural fields west of the Lory Student Center with a large fence around the concert area.
There will be only one line for ticket-taking, and day-of tickets will be available at the LSC iBox beginning at 2 p.m. Saturday. Gates for the concert open at 6 p.m.
According to Lindsay Brown, concert coordinator for ASAP, the biggest difference between this and last year's show is the choice of genres — with this year's concert straying away from the traditional hip-hop/rap acts of previous years.
"We're really excited about the genre difference, it's different than anything that we have had on campus," Brown said.
Overall, ASAP is pleased with how this year's Ram Jam concert came together, according to Heather Jones, executive coordinator for ASAP.
"It's exciting as a whole to set this up and look at how awesome it turned out… we had less than 200 people help put this together," Jones said.
The budget for this year's Ram Jam concert was $160,000, with ASAP's goal being to sell out the show with an attendance of 8,000.
As of Sept. 3, ASAP had sold 610 of the 8,000 tickets available for its Ram Jam concert. ASAP and the LSC iBox refused to give the number of tickets sold and, according to ASAP, ticket sales numbers will be released on Monday.
Fort Collins-based band the Echo Chamber will open the concert with a set that starts immediately as doors open at 6 p.m.
In addition to the Echo Chamber, ASAP booked Denver group, Breathe Carolina, for this year's show at the request of Cobra Starship.
"It was a good time!" said Breathe Carolina in an in an email to the Collegian, who has played previously at CSU. "Super high energy and we are really looking forward to hanging out with everyone again. Colorado always goes hard!"
"We got the offer and we're super excited that it was in Colorado since the last time we played [in colorado] was at Warped Tour, so hopefully we have the same killer show at CSU," the band said.
Regarding Cobra Starship, Breathe Carolina said, "We've actually done a few college shows with Cobra and they are the best. Super cool dudes and Gal. I'm sure we'll both get the place turnt up!"
For Mairaed Gillooly, a sophomore human development and family studies major, this year's performers are an exciting lineup that she's looking forward to.
"Two fantastic bands at one venue, what's not to love?" Gillooly said.