Bas Bleu Theater Company opens 2012 season with "The Love of the Nightingale"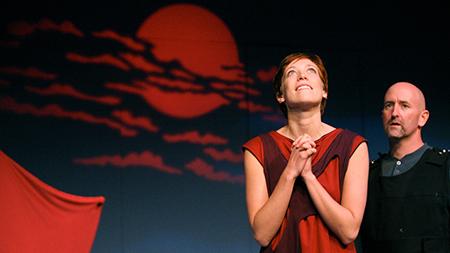 It's an age-old question asked by men of all different backgrounds: what do women talk about?
Fort Collins' Bas Bleu Theater Company looks at that question by exploring the silencing and empowerment of women through language and physicality in its new show.
"The Love of the Nightingale," by Timberlake Wertenbaker, is a feminist view of the Greek myth of Procne and Philomele, two sisters of Athens who have always been encouraged to speak their minds on philosophic ideas. Procne marries a king of an allied city, the citizens of which care for sport and only believe what they see.
All the women in the play experience being silenced, both through society standards and violent acts.
"I think we've all experienced being silenced, and the more atrocious something is, the less socially acceptable it is to bring it up; though, ironically, that's the thing we should be talking about the most," said Sarah Zwick-Tapley, the show's director.
Zwick-Tapley is also an adjunct professor of theater at CSU, teaching classes on movement.
Wendy Ishii, the co-founder and artistic director of Bas Bleu, who is also an actress, plays the slave and caretaker Niobe in "The Love for the Nightingale." Ishii also explained how she brings her own experiences to her character and the play in general.
"I was a victim of rape when I was a younger woman and I survived. For me, it brings up some memories, but it also brings up that we can empower ourselves to go on to survive to hopefully make some change," she said. "Stories are a wonderful way to get people to, what Shakespeare said, 'Hold the mirror up.'
"I think if you turn on the nightly news, you see the same things going on in this play happening right now in Syria, Afghanistan and even Denver where there is a huge amount of sex trafficking," Ishii said. "It's very contemporary in terms of abuse and the powerlessness that women are sometimes made to feel."
Although this play brings up some controversial issues, it is important to show them through theater rather than film because it allows an immediate reaction from the audience, according to Ishii.
"The most important thing is to risk.  Playing it safe is not the role of an artist. Doing art is about exploration, and exploration means that you don't know what the destination is," said Zwick-Tapley.
This is the first main stage show of the season for Bas Bleu since the sentencing of former CSU student Matthew Strauch, who stole money from the theater, as well as a local charter school, in the spring of 2012.
"We are moving forward," said Dulcie Willis, executive director of Bas Bleu. "We were satisfied with the sentencing, but we're not letting it affect our artwork and we're stronger than ever."
Strauch was sentenced to four years community corrections, and is to pay $750,000 in restitution, according to the Collegian.