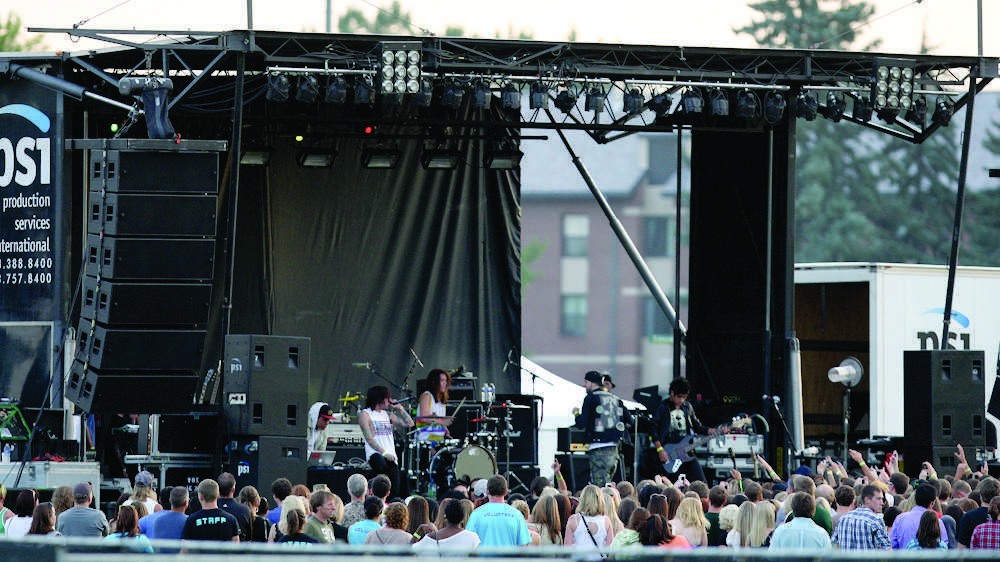 When David Schmitt, the singer and guitarist for Breathe Carolina, asked Saturday night's RamJam crowd to give him the middle finger, the response was overwhelming; seemingly every hand in attendance obeyed, rising to show Schmitt the odd symbol of affection.
And while the crowd's response to Schmitt's band was largely positive, there were fewer middle fingers in attendance at this year's RamJam concert, which was headlined by Cobra Starship and hosted by ASAP, than had been expected.
The Support and Events Unit of CSUPD provided six CSUPD officers and seven campus service officers as security for the event — a security presence that was scaled down from the original figures when ticket sales didn't meet expectations, said Chris Wolf, commander for the CSUPD Support and Events Unit.
"We were planning for 7,000 to 8,000 people, but I cut it back when sales weren't what we thought they'd be," Wolf said.
Wolf was unsure of how many people attended the show, and ASAP refused to comment, stating that no information regarding the concert will be available until Tuesday.
Audience member Alyssa Jenkins, a sophomore psychology major, also attended last year's fall concert, which included performers B.o.B and Sean Kingston. According to Jenkins, this year's show was still enjoyable despite a lesser turnout.
"I thought there definitely could have been more people. Last year a lot more people came, but it was still fun," Jenkins said. "…It's just there were more people at the other one, so it was louder and crazier."
Ticket sales for last year's concert numbered at 5,300. ASAP declined to comment on Saturday night's concert, which had a budget of $160,000.
For 18-year-old Justin Davis, Colorado locals Breathe Carolina overshadowed the night's headliner, Cobra Starship, with a high-energy stage presence despite a "flat sound," Davis said. Davis also said that the show was worth the $22 price of admission for non-students.
Discussing Breathe Carolina's stage presence, singer/guitarist Schmitt said that, "I think people don't really vibe unless they see that you're vibin' it on stage. When you're getting weird on stage people say, 'well f**k it, I'm gonna get weird, too.'"
According to Wolf, the liveliness of the crowd did not translate into any issues for security. He said there were no major concerns throughout the night and, compared to previous concerts such as the fall 2010 Ludacris show, the 2012 RamJam was relatively restrained.
"When there's a big crowd of people you have to be prepared for issues," Wolf said. "People bringing in contraband, coming in intoxicated … stuff like that."
Related articles