CSU reacts: Does music make studying noteworthy?
Nick Botkin
March 22, 2018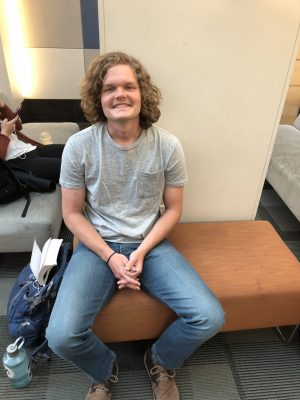 You might want to listen to rap to make chemistry more interesting. You might claim it helps you study. Your friends might laugh.
But jokes aside, does studying with music benefit Colorado State University students? How do particular choices in music impact the study experience? What might the drawbacks be?
"It helps me focus," said Sara Crim, a junior animal science major. "It helps me block out everything else that is going on." 
 Crim said instrumental music is her study fare, in particular the work of Lindsey Stirling.
 Why instrumental?
 "I think because there are not any words," Crim said. Crim likened the experience to people listening to nature sounds while trying to sleep.
"It is just a calming thing," Crim said.
 Crim also said listening to music has its drawbacks.
"Sometime I have a tendency to keep looking for new music when I should be doing homework," Crim said.
Emily Moore, a senior zoology major, also shies away from music with lyrics. Moore prefers classical and other non-lyrical material.
"The lyrics will make you want to sing along or pay attention to what they are saying," Moore said.
While Moore has no favorite artist or composer, she said her listening choices include Mozart.
 Other students have a more personal connection to study music.
 Miles Gilbert is a sophomore English major with a literature concentration.  Gilbert said he alternates between `90s hip-hop and folk.
"I think it helps when I am in a dry spell writing," Gilbert said. "It inspires me."
 Gilbert also said he listens to music "pretty intermittently."
Gilbert said that while his choice in music is lyric heavy, the beat cancels that out and allows him to focus.
It helps me focus. It helps me block out everything else that is going on,"– Sarah Crim, junior animal science major
Music and studying has been a popular topic of scientific research. Some scientists, such as Dr. Masha Godkin, of Northcentral University, said that music has the potential to  positively impact the memory. According to Godkin, music can simultaneously engage both the left and right brains. This in turn augments learning and memory. Godkin also said listening to classical music can be the most beneficial listening material, largely due to the lack of lyrics.
For other students, the decision to listen to music while studying depends on the situation.
For Nika Fridman, listening to music is contingent upon the nature of the assignment.
"If I am doing something I have to read, I will not listen to music," said Fridman, a freshman psychology and criminology major.
 Fridman said she likes background noise and it puts her "in the zone."
 Her choice of fare?
"Something I do not know all the words to," Fridman said, adding that she likes to sing along anyway.
Fridman said she likes alternative music, such as Rainbow Kitten Surprise.
Fun fact:

The chills one receives listening to music are attributed to dopamine, a feel-good chemical.
 So how can study music impact the CSU community at large?
"I think it is a good way to stay more focused," Moore said. "It also probably makes you feel a little less anxious, calms you down a little."
 Crim thinks every student has their own approach to studying, but thinks music is a medium worth exploring.
 "Maybe try it once and see if it works," Crim said. "If not, I respect that."
Collegian reporter Nick Botkin can be reached at entertainment@collegian.com. His Twitter handle is @dudesosad.