Ways to celebrate a solo Valentine's Day
Nick Botkin
February 13, 2018
<div style="position:relative; padding-bottom:56.25%; overflow:hidden;"><iframe src="https://content.jwplatform.com/players/Pd9uRabb-fhNC7bFQ.html" width="100%" height="100%" frameborder="0″ scrolling="auto" allowfullscreen style="position:absolute;"></iframe></div>
<p>Video by Erica Giesenhagen</p>
Valentine's Day can bombard you with messages tooled to couples. Romantic chocolates. Candlelight dinners. Gifts for the special someone.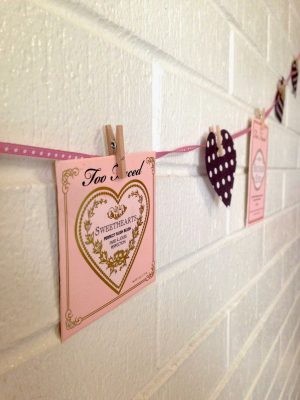 If you are that exotic species known as the single person, it is easy to feel left behind.
But there are plenty of ways to take Valentine's Day into your own hands. Here are some ways to make the day all your own. If you have your own rituals in mind, embrace them as well.
1. Buy yourself something
This might sound ludicrous. Egotistical, even. But why not?  Valentine's Day is about love, so why not pay tribute to yourself? Get something that reflects your own interests, no matter how quirky. Self-esteem is important.  Embrace yourself, especially the quirky facets. If you like vampires, get yourself a copy of "Dracula." If you are a music lover, buy the latest album that can get you grooving on the floor.
2. Share the love
Do not get lost in paroxysms of self-pity. There are likely plenty of other singles in your world. Why not try to alleviate their sadness? Maybe bring gifts or cards to people at school or at work. Especially people you might not know well. The act of giving can fill others with a sense of personal worth, a sense of being wanted. You might just feel more self-esteem as well.
3.Hang out with friends
When you think about Valentine's Day and love, romantic love comes to mind. But why not make it about all types of love? Period. You love your friends. Perhaps some of them are up the same singles creek sans paddle. So help them out. Maybe throw an "anti-Valentine" party. Go out for some beers if you are over 21. 
4.Watch movies
Movies offer a delightful escape. You can live vicariously through others. The choice of viewing material is yours, but why not avoid rom-coms? Watch a cynical comedy.  Or an action movie. If you do veer into the romantic fare, maybe think about avoiding the most upbeat offerings. 
5. Road trip
Take a day trip if you are not in class. Maybe go into Denver. See a comedian. Go to a concert. Walk around and explore. Do not go into this with a set plan. Let spontaneity and impulse reign supreme. Carpe diem, as Robin Williams proclaims in "Dead Poets Society." 
If you are single, you can celebrate Singles Awareness Day instead of Valentine's Day. Singles Awareness Day is a commemoration of love in all forms for singles, whether love of self, friends or family.
6. Write.
 Write something. Anything. Go on a freewriting binge, even if it is rife with stream of consciousness rants. Pen lousy poetry, even if Alfred Lord Tennyson's ghost picks a fight with you. Writing is an inherently therapeutic act, according to an article in "Psych Central." According to the article, writing is a means of observing our thoughts and feelings. So write about your frustrations. Write about inadequacies, about breakups. Even write about your ideal date. 
Collegian reporter Nick Botkin can be reached at entertainment@collegian.com. His Twitter handle is @dudesosad.