Ellen Becker knits for the CSU community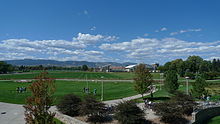 While Fort Collins can often appear to be a large and uninviting city, it still retains some of its small-town, close-knit community feel — especially on CSU's campus.
Nobody embodies this more than our very own Ellen Becker, who has knit hundreds of hats for students, administrators and countless others on campus out of the pure kindness of her heart.
It is thanks to people like Becker that make this campus great. And while it may be difficult to try to match the compassion of this woman, she can be used as an example of which we can strive for, contributing in our own small way to make this university and town a better place.
Community members like Becker are the reason why students decide to come to CSU –– because they define who we are as a community.
It is what separates CSU from most major campuses across the United States. Rather than just being another face that quickly passes through these halls and is quickly forgotten, when you come to CSU you are joining our Ramily.
Even if you haven't felt the love yourself, it's imperative that you go out and give back. Because we are CSU, and it is by each of our own individual actions every day that determine how tight and friendly a community we will have.
With more people like Becker giving back to the campus, you'd be hard pressed to say that CSU doesn't feel like home.