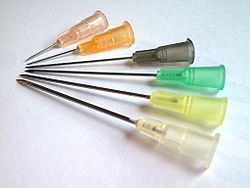 How about a very unsettling way to start the day? According to Ryan Jaslow at CBS News, three infections have been linked to a denver dentist accused of reusing needles for more than a decade at his Highlands Ranch, Colo. office. The dentist, Dr. Stephen Stein, is also part of an ongoing investigation into prescription fraud, according to Jaslow.
Also according to Jaslow:
The health department had previously sent letters to 8,000 of Stein's former patients urging them to get tested for HIV and hepatitis B and C in addition to informing the media of the potential risk to cast a wider net on Stein's former patients.
So, if you have the misfortune of being a former patient of Stein's, you should probably get checked. You probably need to find a new dentist, too.
Related articles