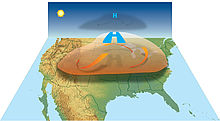 We're in an extreme drought, fires have wreaked havoc on the state and now this. July was officially the hottet ever recorded in the state of Colorado.
According to Bob Berwyn at the Summit County Citizen's Voice, the average temperature for Denver during the month of July was 78.9 degrees, besting the previous record of 77.8 set back in 1934.
Berwyn also wrote this:
Although no single-day temperature records were broken, there were five days (seven for the month) with readings above 100 degrees, and 27 days with readings in the 90s, breaking the record of 26 days, set in 2000 and 2008.
Behind all those numbers and facts, I'm pretty sure Berwyn is saying that July was atrocious, that no one enjoyed the heat and that suddenly Colorado winters are looking like butter looks to a croissant: awesome.
And if this post doesn't make much sense it's probably because I'm suffering from heat exhaustion like the guy in this video:
Related articles