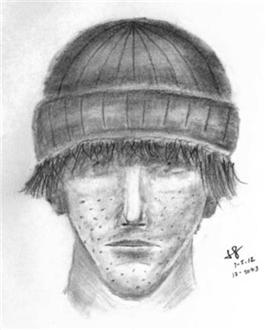 Via Jaryd Wilson at fox21news.com:
Colorado Springs Police officers have released a sketch of the man who was caught masturbating in a women's restroom earlier this month.
The story goes that on July 2, a woman walked into the restroom of an office building in Colorado Springs only to be grabbed by a man who was masturbating. She was able to get away, but the alleged sex offender managed to escape in a white 2007 Hyundai Sonata with Colorado license plate 865 TOA before he could be apprehended. The car had been stolen earlier in the morning.
Also according to Wilson:
the woman said he is in his late 20s to early 30s and is 6′ – 6'2″ tall. He has a thin build with "scraggly curly" medium-length light blonde hair. The woman said he also has "meth marks," or acne on his face.
In my opinion the sketch resembles every 14 year-old boy who ever lived, but if you recognize the suspect, or have any tips on the case, contact the Colorado Springs Police Department.
Related articles