Pat Robertson would say yes to leagalizing marijuana, would you?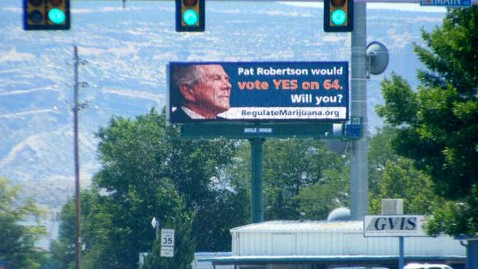 Pat Robertson, host of the well known Christian broadcast The 700 Club, is the new face of a campaign to legalize marijuana in Colorado.
Robertson is seen on a billboard in Grand Junction, Colo. next to a pro-pot statement.
According to an article from ABC news, "Robertson is not working with the campaign and did not approve the ad before its placement."
The billboard was placed by the Campaign to Regulate Marijuana Like Alcohol and spent $1,000 for the advertisement.
According to ABC News, Robertson has a history of marijuania legalization support. According to the article on ABC News,
"At least twice, the evangelical leader has publicly offered his support for decriminalizing marijuana. In March 2012, he told The New York Times that he "absolutely" supports pot-legalization measures that will appear on November ballots in Colorado and Washington, but that he would not campaign for those initiatives."