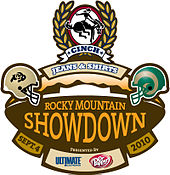 The Rocky Mountain Showdown is still weeks away, but Jack Graham, CSU's Athletic Director, spoke with Kyle Ringo recently about the level of hostility between CSU and CU fans. Turns out he doesn't like the fact that students from the two schools can't stand each other, saying:
"I think it's really important that we all grow up and understand that we're going to a football game, we're going to a basketball game and it's time for us to have a very, very strong sense of competitiveness and rivalry and let our football teams and our basketball teams go to war with another on the field and on the court and respect and appreciate each other in the stands."
Graham also added that he:
has seen CU and CSU fans spit on each other and throw drinks on each other in recent years and more often he hears common banter between fans of the programs devolve into shouting matches and even fisticuffs.
So there's a fair warning. If Graham sees you talk smack to a Buff fan, he might expel you for it.
Related articles