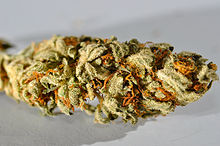 Even after proposition 300 passed last november, which banned medicinal marijuana shops in Fort Collins, it's hard to get away from the pot friendly culture in our small college town.
Just as last year saw a push back against the plant's medicinal status, this election cycle is shaping up as another fight. This time, though, it's for all out legalization, and ABC News has a pretty great list of successful and famous legalization supporters who are willing to put their paper where their mouth is (yes, that is a sh*tty joke about rolling papers and cash money.)
The list includes:
Peter Lewis, chairman, Progressive Insurance
David Bronner, CEO, Dr. Bronner's Magic Soaps
Rick Steves, author and TV host, Rick Steves' Europe
George Zimmer, founder and CEO, Men's Wearhouse
It sure seems like Colorado+Marijuana can't stay out of the media for long. I mean, do you remember when the Discovery Channel had that show all about Fort Collins and medical marijuana? Ahh, great television.
Related articles