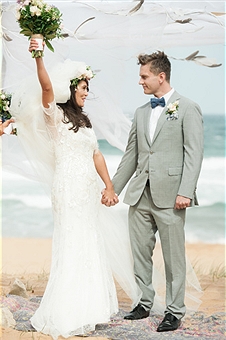 The wedding planning process is extensive.
There is the catering, the entertainment to book, and then you have to make sure the entire event looks amazing. As one could guess, there's a lot of space for mistakes in the mix, but that's okay. Mistakes are a natural part of the wedding planning process. However, if you can prevent these mistakes from happening, isn't that the better option? Luckily, Glamour reached out to brides who already made mistakes at their own weddings and asked them to share tips on how to avoid these mistakes.
Not hiring a professional wedding planner. One bride said she trusted a family friend to help her out on her wedding day. However, this family friend ditched the wedding last minute. This meant that this bride, on the day of her own wedding, had to take care of everything.  She wasn't able to mingle with family or friends, or even just sit back and relax. Putting a stress on a family-friend relationship is never ideal. Hiring a wedding planner is best. You skip the headache and know you'll get your moneys worth.
Assuming yours is the only event in town. This is a nice thought, but not completely realistic. As much as you'd like to believe your event is the only important event of the wedding season, you must keep in-mind everything else that could be going on the same day. One bride planned her wedding the same weekend as an extremely large convention in her home town. This convention was so large that the bride couldn't book blocks of rooms for her guest. Luckily, she was able to change the date of her wedding last minute, but don't let this happen to you. Look around at your city's social event calendar and make sure nothing too big will drastically affect your wedding.
Not listening to your heart. If you have had a dream destination, theme or dress set in your mind for a long time, then you have to go with your gut. Don't wait to plan out your ideas according to your dreams. Looking around at wedding elements that aren't exactly what you want is a waste of your time. This wedding is your wedding. Don't hesitate to get what you want.
For the final 2 tips for planning the perfect wedding for you, click here.