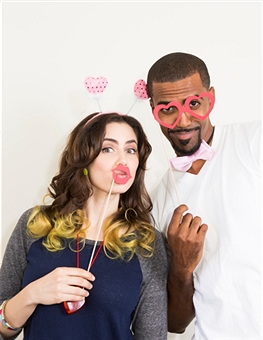 It's no secret that having a catchy hashtag is a major trend in the wedding industry right now. Creating a personalized hashtag for guests to use with pictures from your wedding is not only fun, but a great way to collect memories to save. However, finding the perfect wedding hashtag can be tricky. You want it to be clever and subtly funny at the same time. If creating a hashtag for your honey and you is a difficult task, then look no further. A new article from Brides reached out to some wedding experts to help you form your perfect hashtag.
First, try reaching out to some of your more creative friends. Using an online hashtag generator is easy, but it will give you a very generic hashtag like #TheSmithsSayIDo. Instead, ask some of your friends what they would do. Most creative people love a challenge, and they will probably come up with some pretty crazy ideas. Also, friends who know you well will be able to incorporate inside jokes that relate to your partner and you.
Next, make sure the hashtag is personalized to perfectly suit your partner and you. To accomplish this, you should sit down with your partner and write out both your last names and the date of your wedding. Then, start mixing these around with the suggestions from your friends. You should want the words to combine well together or be punny. Experts also say hashtags are more successful when there is some sort of alliteration with them. Play around and have fun with the process.
However, you will want to be sure to make sure your clever hashtag is memorable. If the words are too confusing or jumbled together in an awkward way, chances are your guests won't remember what they are or will write them incorrectly. If this happens, then it will be harder to collect all the awesome photos at the end of the day, which would be a major bummer. Stick with smaller, simpler words that your guest can easily remember and execute. You will be happy you did so in the end.
To learn more about creating the perfect wedding hashtag, click here.