How to Throw a Party Like a Professional Party Planner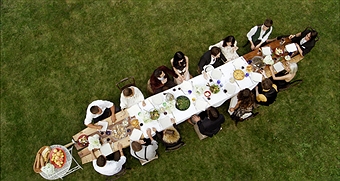 Most people don't take the time to stop and think about what truly makes a great party, that's why StyleNest did so for us!  Usually a party where someone loses track of time, has engaging conversations and meets new interesting people is a great party.  However, there is much more that goes into throwing an event that's out of this world.  The secret's are in the details that span over many categories.  Here are some of the basics you need to know for your next party…
When planning the event, make sure you pick a date that is a couple of months in advance.  It's very important to give your guests plenty of time to write it down in their schedules.  This also gives you enough time to contact caterers and decorators. With enough time, your party will look thought out and organized.
Then, for decoration purposes, it's very important to pick out your theme.  Your theme should be picked, depending on the mood or tone you want to set at your party.  If you're wanting to go for something elegant, try a black tie affair, if you're wanting something silly go for a Saturday Night Live costume theme.  Whichever theme you pick, make sure it's simple enough to achieve.
Decorating is another important aspect of the party that ties closely with the theme.  After all, the decorations at your party are the main thing that puts the guest in a party spirit.  Try to get creative, and even take the time to make your own decorations.  A little personal touch will really wow your friends.
Most people will argue that the food is what makes a party fantastic, which may be a point hard to disagree with.  It would be a real bummer to put so much effort into a party, only to have guests walk away unpleased because of lousy food.  Remember that what picking out the food for the menu.  The trick is to keep everything simple.  Also, it's a good idea to have a mixture of finger foods and foods using utensils, that way it doesn't look like you took the easy way out, but it's also not too difficult to eat.
What's a necessity when it comes to food?  The drinks.  You can never have to many either.  The guests would be pretty upset if it's only 9:00 p.m. and all the drinks have run out.  As a rule of thumb, make sure your buy more drinks than you think you need.
For many more important tips and tricks to help you plan your next party, click here.