CSU Interns experience LALA Land
Morgan Seiter
February 27, 2018
Following New York's Fashion Week, we'd like to recognize the CSU Design and Merchandising students working as design interns in the Los Angeles industry. We met with Carol Engel-Enright, a professor in the Department of Design and Merchandising at CSU, as well as the internship coordinator for the school. She spoke of five design and merchandising interns who work for LA designers.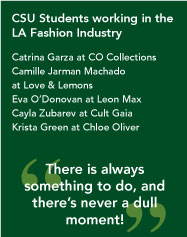 Cayla Zubarev, a design intern for Cult Gaia in Los Angeles, described a typical day in the industry for herself. She explained that "each day brings different tasks," including "everything from going to the Fashion District to pick out fabric and trims, to performing quality control on garments and accessories that are about to be shipped out, to working with local vendors in Downtown LA. There is always something to do, and there's never a dull moment!" Carol Engel-Enright described the Cult Gaia collection as being more flowy and feminine, with more prints than other designers. She added that the style in Los Angeles consists of more flowy and sophisticated designs, as well as more denim in the industry. As for the feminine prints, Carol mentioned that a some of the designers in Los Angeles create their work based on inspiration from nature in LA.

Another design intern Catrina Garza works for CO Collections in Los Angeles. When we asked her what advice she would give to current or prospective fashion majors, she said, "there are so many things that you can do inside the fashion industry," she added, to try to "not limit yourself." CO Collections displays a more bold, yet feminine look, and has a sophisticated edge to the designs.

Engel-Enright explained that Los Angeles has an e-commerce forward based industry for their consumers. The designers are true to their brand identities and typically focus on staying on location for photographing their designs for catalog and online. The lines created by these design interns will be presented in the upcoming CSU Fashion Show: Spectrum.