Relationships: 6 Goals you need to work on in 2017
Jillian Kolman
January 18, 2017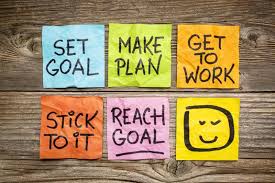 In my opinion, 2017 took a long time to get here, but, finally, we're here! It's the time of year when we're all still kidding ourselves that we can keep up with our new year's resolutions. Maybe you're shooting to shed a few pounds, maybe you're determined to pass this semester with flying colors or maybe you're set on kicking a bad habit. No matter what your goals are for 2017, here are a few goals you might want to add to the list. Trust me, your love life will thank you!
1. Raise your standards
So you have a thing for sorority girls, or you get really distracted by six-packs, nothing wrong with that! However, it might be time to start getting picky about who you're interested in. There are nice, beautiful people out there, so don't settle for just beautiful. You do deserve to be treated amazingly, and I'm sure you'd like to be! It's about damn time that you stop goofing around and be treated right.
2. Don't get distracted
I hate to be the broken record that raves about how we're all in the prime of life right now, but we're all in the prime of our lives right now! Relationships and dating are fun, don't get me wrong, but it should never take priority. You come first, always. Don't ignore school, work or your own well-being by focusing too much on how to get that one girl's attention. Your love life is something, but it should never be everything.
3. Love yourself first
Cliche, I know, but that's how you know it's true. Any relationship with others will go a million times smoother if you love yourself. When you don't have to rely on the affection or approval of others, not only will you be happier, but a lot of the speed bumps along the way of a relationship will be much easier to overcome.
4. Be old school
Overall, the big take home point for 2017 is that we should bring a little throwback into the mix. Let's bring back classy dates when the ladies broke out their heels and the fellas gave up their coat if it's cold. Don't get me wrong, just casually hanging out is fun and necessary to a successful relationship! However, playing dress up occasionally is fun too. Essentially what I'm saying is…
5. Go on more dates
Sometimes, I worry that the art of dating has died and the time of Netflix and Chill is upon us. The issue with that is dates are fun! Go out, put on your best face and try to impress someone over dinner and a movie. If things are going to work out, you'll need to be able to spend a night on the town together.
6. Prioritize your own happiness
If bae is mad that you can't spend more time with them, but you need some one on one with your Netflix account, they might not be for you. You are 50% of every relationship you're in. Don't make their happiness 100% of your focus.
It's important to make goals and improve yourself, so why not make your relationship something to improve? They all are works in progress, so it might as well be somehing to work on in the new year.
Collegian blogger Jill Kolman can be reached at blogs@collegian.com or of Twitter at @JillKolman. Read more of her content on Relationships. Leave a comment!