The Non-Traditional: What we do over break
Ashley Haberman
December 20, 2016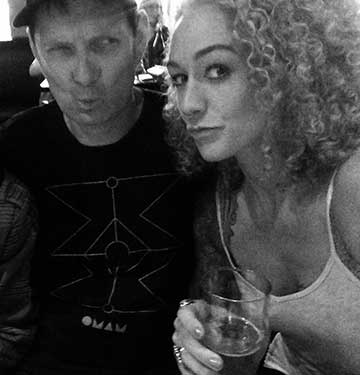 For many, breaks from school are when the fun begins and the long hours end. But, that is far from the reality of most non-traditional students.
Most of the classmates I talked to about break plans were all headed back to the warm, cozy and nurturing homes of their parents, where the fridge is fully stocked and your laundry gets done for you. In the world of the non-traditional mom, you don't ever get a break from being the fridge-stocker or the laundry-doer. From working a few eight to ten-hour days and trying to at least get three to four hours of school work in each day to attempting to make a dent in the never-ending cycles of cleaning and laundry while, through it all, playing with and taking my four-year-old to parks and play dates, the non-traditional mom literally never gets a true "break" from life.
Other non-traditional students may not have been chasing around a four-year-old, but their holiday breaks were also different from the traditional students'.
"Yes, we work during the break," said non-traditional journalism major Ocean Babin. "The young ones go home and relax while the parents cook. I have to cook if I want to eat."
Ocean's thanksgiving break was non-traditional in more ways than being a non-traditional.
"Not having a family to fight with during dinner was my Thanksgiving break highlight," Ocean said. "Most of it was relaxing because I did not do as much homework as I had wished, but it was stressful watching Hallmark Christmas films. They all have about five different plot lines, but use different actors."
Strange as it may sound, the highlight for me over the last break, which I called a blessing in disguise, was the cancellation of our Thanksgiving plans. The plan was to go to my folks house in Cheyenne, which is always a nice time. But, this Thanksgiving was set to have up to twenty people attending, and half of them I don't know well enough to have any sort of conversation outside of mundane small talk. I mean, how long can you talk about the broncos or the weather or what vacation your taking next? Not long enough. And, to top it off, my brother-and-law and most likely a few others voted for Trump, and how, after a few glasses of wine, were we, or at least me, suppose to get through a whole day without something political coming up?
Not only was my anxiety high from the latter, but Wyoming is by far the windiest state, and Thanksgiving day was very windy, which would have eliminated escaping outside for longer than a few minutes. But, late into the evening on Wednesday, I got a call from my dad informing me of my mom's sudden stomach bug that left her bed ridden or hunched over the toilet. As soon as this news came, my heart was sad for my sick mama, but me as a whole I was so incredibly relieved that I no longer had to face what I was fearing and what was fueling my anxiety.
All of that said, we stayed at home, didn't dress-up, avoided boring small talk and the possibility of a political meltdown, and just chilled. We managed to make a tasty, well put together Thanksgiving meal, but only for five people rather than twenty.
It was truly relaxing to have the chaos of holiday preparation, cleaning up and socializing lifted from my shoulders. But, now that break is over, as is finals, and a new break begins. But even though breaks aren't a break, going back from a break is even harder. I won't deny that I had a serious case of the Mondays the first day back for finals, and I wasn't the only one.
"Get a coffee and go to class," Ocean urged me after a series of whining texts. "There is no crying in college. You don't cry in college."
Happy break everyone. I hope your last breaks gave you the relaxing push to kick the end of the semesters butt, and that you are on to enjoying your next one. Happy Holidays.
Collegian writer Ashley Haberman can be reached at blogs@collegian.com.