NightLife: Drink When Thirsty
Anna Hoover
September 19, 2016
During your college career, it is almost a rite of passage to go to bars and taste the flavor of adulthood: alcohol. However, whether you can drink alcohol or not, deciding what to order is always somewhat daunting, as the list of options seems limitless. If you go into a tavern, you will get handed a menu several pages long on what to drink, their subtle quirks and perfect pairings.
As someone who is, personally, not a huge fan of the traditional alcoholic drinks, and as someone who remembers the awkwardness of feeling left out of gatherings because they legally couldn't drink yet, I would like to share some of my wisdom and favorites.
Let's start with the basics for ordering "virgin", the drinks that have all the innocence with none of the alcohol. First of all, if you just go up to a bartender and ask, "What virgin drinks do you recommend?", they will give you a blank stare. I know from experience, and it's awkward — just trust me. The vast majority of people who go to bars get alcoholic drinks, that's a no-brainer. Some bartenders won't even fully process what you mean by "virgin" and will stare at you confused until you say non-alcoholic. So, when someone asks for their recommendation of "virgin" drinks, they sometimes freeze and just give you a list of soda pops, juice, or water. Here's my point: if you plan on drinking with friends and order "virgin", know what you want ahead of time to avoid getting stuck with the kiddy drinks.
Here are some of the classics that are the easiest to get because they are either easy to make or most bartenders know how to make them.
 1) Shirley Temple
America's sweetheart, the girl who stole audiences' hearts from early films, has a sweet drink named after her — I'm serious, it's very sweet and sugary. It's basically soda water and cherry syrup, which might not sound fancy but it's delicious and doesn't look like you just ordered a coke. Plus, I've found that they generally give you free refills on them since it's just flavored soda water. For those that don't want to tell the bartender they want a Shirley Temple, ask for a Roy Rogers for a nearly identical virgin drink, also named after a famous actor.
2) St. Clements
Although the ingredients might vary, its flavors do not — you will always get some mixture of orange juice and a lemon flavored drink. This is a great choice for those that aren't looking for a sweet treat but for something that tastes refreshing. This also is a great cleanser between drinks to help pace those with more enthusiasm (and thicker wallets).
3) Non-Alcoholic Beer
There are a wide variety of non-alcoholic beers, with some being available at almost every bar. Although most non-alcoholic beers taste… well, they don't really have a defined taste — let's face it, they generally aren't very good. BUT, I have found that there are some exceptions. Ginger beer, although not your typical beer, is pretty tasty. For those who have never tried it, it's basically a fancy ginger ale — just much stronger in flavor. They have a very low alcohol content because they are still fermented, but it meets FDA regulations to classify as non-alcoholic. Bonus: They are sometimes available at the grocery store, and I have also seen several different brands at the Rocket Fizz candy store on College Ave (which is also great for candy and soda, for the kid's at heart).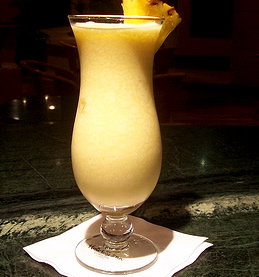 4) I Love Pina Coladas
And getting caught in the rain! This little number is one of my favorites at restaurants. They are not as common in bars but are easy to find at taverns and restaurants, for when your whole squad is getting drinks.This tropical drink basically tastes like a pineapple coconut smoothie and goes well with a lot of different kinds of food, from steak dinners to chips and dip. This is a fun one to share or enjoy your own as you go out on a girls night out. It is so yummy, don't ever let anyone tell you that you shouldn't drink it because it's "weak" or "lame" — if it wasn't great, then why did they make an entire song involving Pina Coladas, hmm? [Caution: this does usually contain dairy, for those who are lactose intolerant.]
5) A Pimped-Out Lemonade
Lemonades are so easy to make customizable. One of my favorites is the "Ravenclaw" at Dungeons and Drafts — it is a lavender syrup lemonade with ginger ale and blueberries. However, you could add pretty much any fruit to lemonade and it makes a great cocktail. Strawberry, raspberry, whatever you like! It's best with fresh fruit, but fruity syrups are a good substitute and are much easier for bars to keep stocked. Ask for a flavored lemonade, and if they don't have that, see if they can make one with lemon juice and flavored soda water — just try it before you throw it out as a possibility.
Go out, enjoy the bars and taverns and experience college. These are some great starting options for those who choose not to drink or just simply can't drink alcohol at the moment, but don't feel limited to these as you experiment. Discover other drinks to your delight!! Cheers!!!
Note: The Tap and Handle menu can be found here, as well as the Road 34 Tavern menu here.
Collegian blogger Anna Hoover can be reached online at blogs@collegian.com or on Twitter at @Hoovanna_Disny. Read more of her content on NightLife. Leave a comment!