NBA Heat Check: key injuries
John Scriffiny
April 28, 2016
Key Injuries: The playoffs have been defined by injuries to this point. Here is a look at the significant ones and their effect on the race.
Steph Curry
Although the Warriors haven't been hit the hardest by injuries, this is the most significant. Curry first suffered a complication with foot and ankle, and then slipped on a wet spot on the floor which caused this, resulting in mini heart attacks across the bay area.
Curry is reportedly out at least two weeks, and the Warriors should consider themselves lucky it's not more than that. With Steph on the bench this season, the Dubs have actually been outscored by opposing teams. Fortunately, he will be back in time for a series with the Spurs or Thunder. However, assuming they close out the Rockets (which is pretty likely because the Rockets are pretty awful), they will still have to play the Blazers or Clippers without Curry.
If I were the Warriors, I'd be hoping to avoid the Blazers, which is sort of crazy to think about. At the beginning of the year, no one really gave Terry Stotts' Blazers a chance. They had traded Nic Batum, and lost Wes Matthews, Aaron Afflalo, and most importantly, Lamarcus Aldridge. Yet they finished the season on 25-12 streak with an 18-3 home record, good enough for the five seed. CJ McCollum took a bit of leap this year, winning most improved player and being a 20-point scorer.
Damian Lilliard has also been very impressive, and has played incredibly well against the Warriors. On the season, he averaged about 20 points per game. Against Golden State, Lilliard averaged an outstanding 36.5. The Blazers have proven they can score against this Warriors team. However, Golden State always just outscored them with their high-octane offense. Without Curry, this series could get interesting. 
Best case scenario, the Warriors get the Clips while Curry recovers, due to these two significant injuries.
Chris Paul, Blake Griffin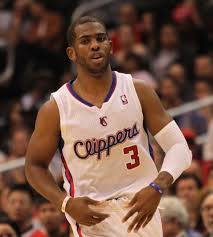 This is really too bad for the Clippers. Everything seemed to be going their way. They got a good first round matchup with the Blazers, Deandre Jordan showed the ability to snuff out pick and rolls very well, and then Steph Curry got hurt. It looked like Chris Paul would be heading to his first ever conference finals. But alas, Griffin aggravated a quad injury that will keep him out the rest of these playoffs while Paul broke his hand.
They then dropped two games in Portland, and look to not even get out of the first round. Had these two been healthy, I think they would have beaten Golden State. They have been one team that has consistently hung with the Warriors, and could have had a very good chance at them without Curry. Now it's the Warriors who should consider themselves lucky, as they avoid having to play a full strength Clippers team. 
Maybe the Clippers find a way against Portland with a Rivers-Redick-Mbah a Moute-Jeff Green-Deandre lineup, but without Paul or Griffin, they don't really stand a chance against the Warriors, Curry or not. 
It's a shame that injuries have tainted these playoffs so far, but by the time the Conference Finals roll around, all the teams look to be healthy. Until next time.
Collegian NBA Blogger John Scriffiny can be reached online at blogs@collegian.com or on Twitter @JScriff.