Bottoms Up: The Kitchen's new Bloody Mary and Mimosa bar
Ashley Haberman
March 21, 2016
For many students and members of the Fort Collins community, The Kitchen is the place to go for special occasions or when the parents are in town. But, beyond the relatively expensive special occasion, The Kitchen now offers a Bloody Mary bar that suits any reason to treat yourself, and also has enough fulfilling components to be a meal on its own.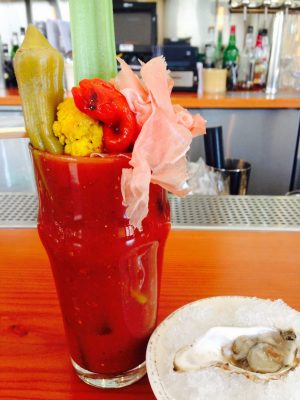 The $10 craft-your-own Bloody Mary comes with a variety of assortments to spice up a weekend brunch experience. Choose a spirit, up to five hearty garnishes, "get fancy" options that include oyster, octopus, prosciutto and bacon and add kicks or side options that can create an entire meal.
The brimming concoction of Mell Vodka and house-made Bloody mix is decorated in a colorful array of garnishes. An overflow of pickled okra, charred pepper, pickled giardiniera (cauliflower), celery and a generous portion of prosciutto with an oyster on the side creates filling distinctive flavor in every sip.
The bar, while still very classy and accommodating, offers a more casual encounter with The Kitchen experience. The friendly bartenders are both tentative and knowledgeable, with both food and drink menus, and are great at offering suggestions.
The Kitchen's classic cocktails are the perfect addition to sharing some apps at happy hour or a fluffy waffle for brunch and make The Kitchen a great option outside of the special occasion for both students and the general community.
The new Bloody Mary bar makes it the perfect destination for a filling and tasty weekend brunch cocktail and meal in one. And, for those of you who don't like Bloodys, The Kitchen's new Mimosa bar addition is made with fresh-squeezed juices and top-of-the-line spirits. 
Collegian Craft Alcohol blogger Ashley Haberman can be reached online at blogs@collegian.com.